The holiday we know and love as Halloween got its roots from the Celtic festival of Samhain, during which folks would light bonfires and dress up in costumes as a way to ward off spirits before All Saint's Day on November 1. However, these Halloween traditions didn't make their way to America until the early 20th century, when the spooky affair became synonymous with parties, parade, treats, and costumes.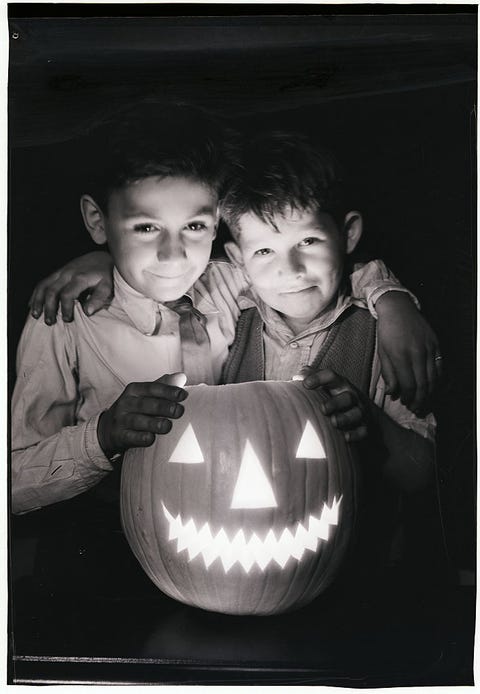 HOMUNCULUS (1916)
A group of scientists, led by a Professor Ortmann, produce a living human child using scientific processes – a "homunculus." This creature is human in every way, except that he cannot experience love.
1917
You're probably accustomed to buying your own Halloween costume every year, but up until the late 1940s, most holiday celebrators handmade their own creations. Today, market prices for vintage costumes in mint condition run the gamut from $75 to $1,500 for cartoon characters, television stars, or political subjects.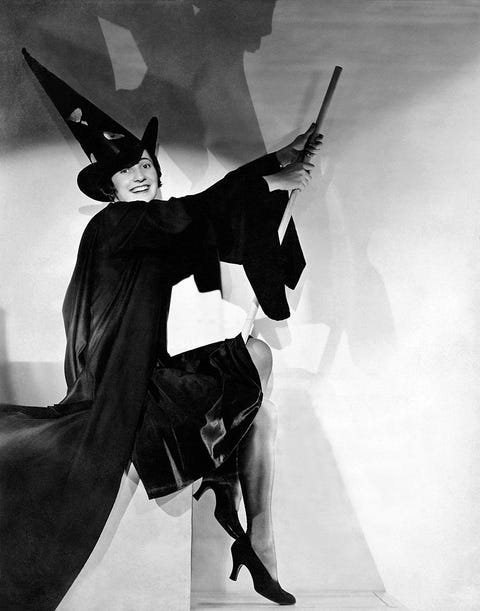 SATAN TRIUMPHANT (1917)
Pastor Talnoх furiously urges the flock to fight temptations, but he himself becomes a victim of temptation. In his house appears Satan, pushing the hero to theft and spiritual fall.
1918
Some of the most sought-after Halloween collectibles? Vintage invitations and place cards. Most were tossed after use, making them incredibly rare. Because of this, a complete set of World War I-era die-cut invites by a paper purveyor like Dennison of Massachusetts can cost $200 to $300 if never addressed.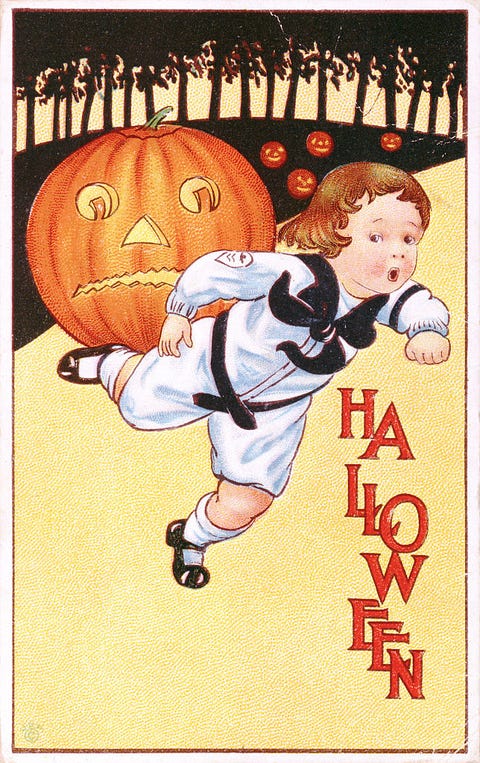 THE EYES OF THE MUMMY (1918)
A girl is kidnapped and held captive in an ancient Egyptian temple. She is rescued and flees to England, but soon finds that her mystery.
1919
In 1919, Ruth Edna Kelley wrote 
The Book About Hallowe'en
, which still remains one of the greatest historical accounts of the holiday. Formatted with poems, games, and folklore, it's a must-read for anyone wanting to get the full Halloween backstory up until the modern era.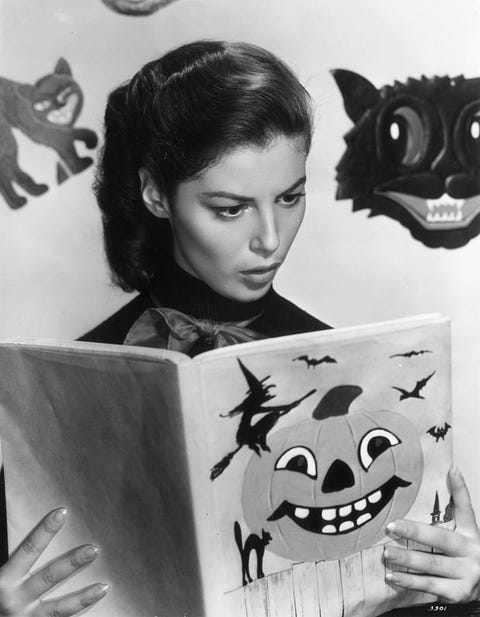 A demon, a reaper, and the ghost of a prostitute read gothic short stories and act them out.
1920
Halloween decoration lovers, you can trace this popular American custom back to 1920 when Pennsylvania-based company Beistle Company introduced a hair-raising line of party goods that helped popularize the tradition.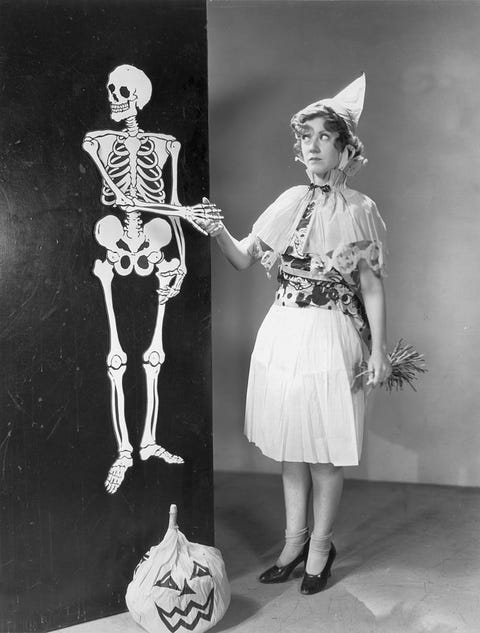 DR. JEKYLL AND MR. HYDE (1920)
Dr. Henry Jekyll experiments with scientific means of revealing the hidden, dark side of man and releases a murderer from within himself.
1921
Halloween parties gained major traction in the 1920s, reaching peak popularity in the '30s. Planning for these elaborate fêtes would sometimes kick off as early as the summer before, usually in August.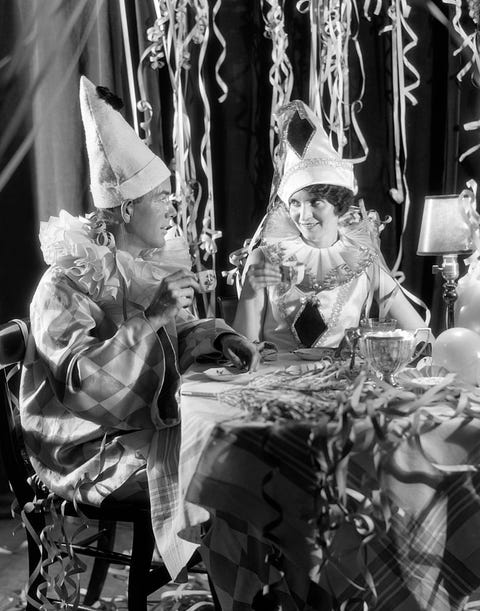 THE HAUNTED HOUSE (1921)
A bank clerk ends up in a seemingly haunted house that is actually a thieves' hideout.
1922
"From 1909 through the '30s, the Dennison Manufacturing Company published Halloween-themed craft and party idea books called Bogie Books," says Halloween antique expert Bruce Elsass. One such popular Halloween prop inspired by the books was a pumpkin parade stick, which was originally lit by a candle and carried by children while trick-or-treating.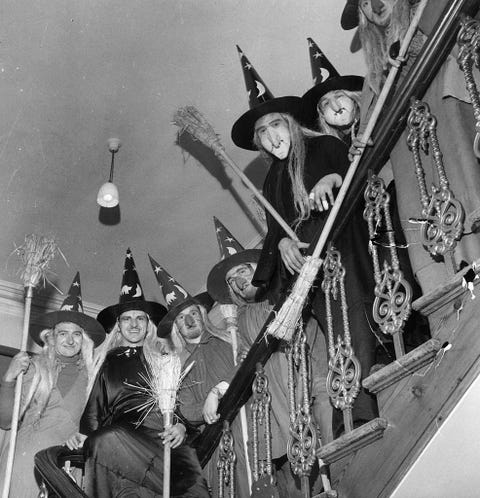 NOSFERATU (1922)
Vampire Count Orlok expresses interest in a new residence and real estate agent Hutter's wife.
1923
By the 1920s, Halloween had become synonymous with mischief, which young people used as an excuse to break windows or damage property. In 1923, the police chief commissioner in Omaha, Nebraska went so far as to designate the city's "worst boys" as junior police officers on October 31 and relied on them to report criminal behavior in an attempt to curb vandalism.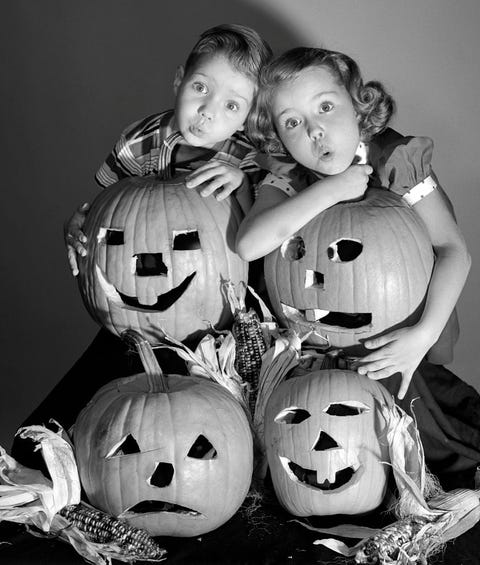 THE HUNCHBACK OF NOTRE DAME (1923)
In fifteenth century Paris, the brother of the archdeacon plots with the gypsy king to foment a peasant revolt. Meanwhile, a freakish hunchback falls in love with the gypsy queen.
1924
Communities continued to go to great lengths in order to prevent petty crimes on Halloween night. In 1924, for example, an announcement in Chicago Tribune from Oct. 29 advertised a party at the Chicago Boys' Club so that youngsters could "enjoy themselves without destroying property or playing pranks on their neighbors."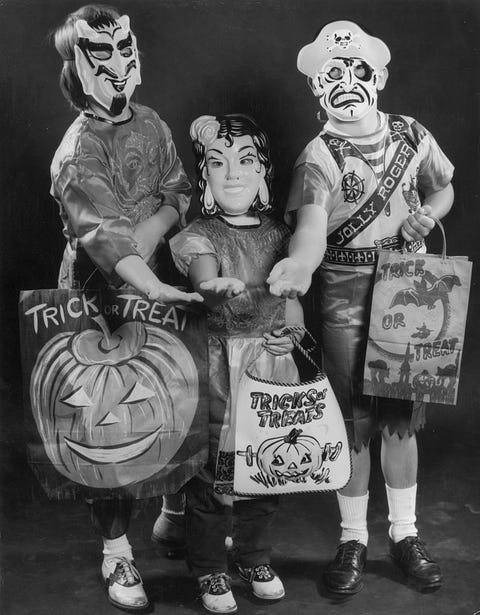 THE HANDS OF ORLAC (1924)
A world-famous pianist loses both hands in an accident. When new hands are grafted on, he doesn't know they once belonged to a murderer.
1925
Halloween party guests in the 1920s enjoyed games like a pumpkin ring-toss as a form of good old-fashioned entertainment. Apple bobbing was also a popular pastime—one lost tradition on October 31 even involved women secretly marking the apples before throwing them in the tub for men to "bob" for; future matches were foretold depending on the apple each lad chose.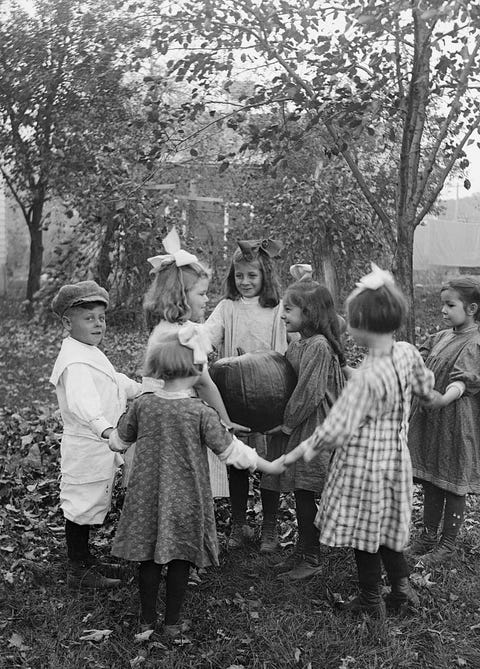 THE PHANTOM OF THE OPERA (1925)
A mad, disfigured composer seeks love with a lovely young opera singer.
1926
By the late 1920s, homemade costumes—particularly clowns—were still a popular choice. Pictured here is a homemade clown costume with sheer netting ruffle and original fabric.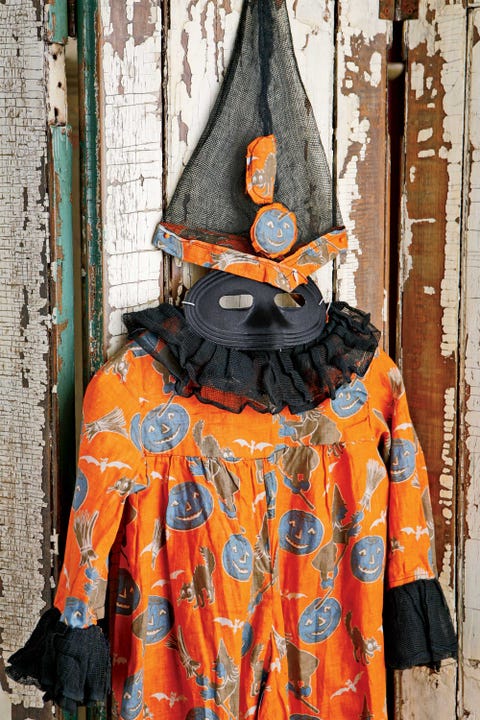 A PAGE OF MADNESS (1926)
A man takes a job at an asylum with hopes of freeing his imprisoned wife.
1927
The first known printed reference to "trick-or-treat" appeared in the Alberta Canada Herald on Nov. 4, 1927, according to Smithsonian.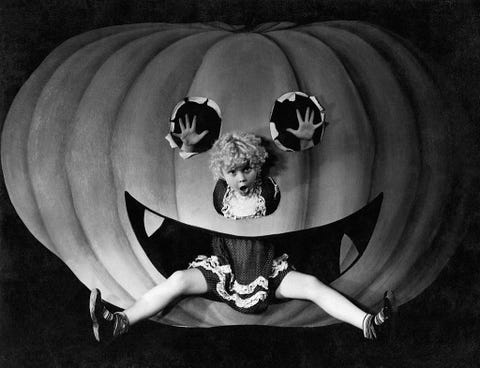 THE LODGER: A STORY OF THE LONDON FOG (1927)
A landlady suspects her new lodger is the madman killing women in London.
1928
From 1928 to 1931, the Pennsylvania-based company Beistle crafted cardboard fortune-telling games as Halloween party entertainment. With questions including "Will I soon be engaged?" and "Does my employer like me?" early Beistle games like a 1930s Mystery Answer Board Game—valued at $300—were marketed to adults. Another 1930s favorite, the Flaming Fortune Game, which also served as a table centerpiece, is a fairly common find but remains very popular with collectors.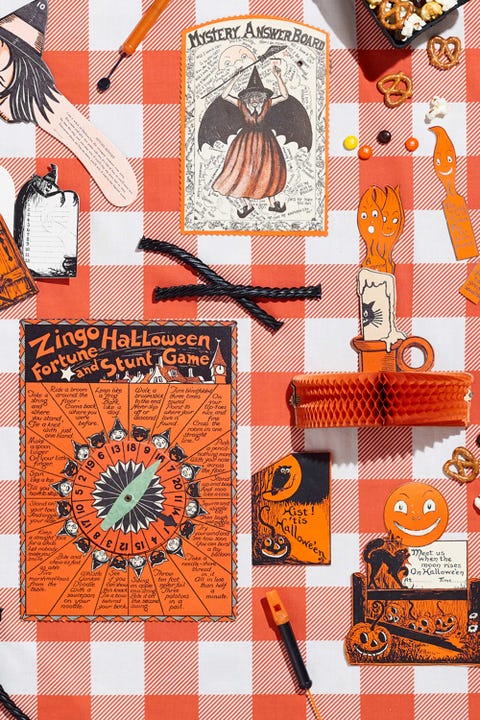 THE TELLTALE HEART (1928)
An expressionistic film based on Poe's story, about a murderer and his mental breakdown.
1929
Prone to damage—it's very rare to find an example with an intact arch—this 1929 honeycomb witch and cauldron from Beistle originally came in three different sizes. This—the middle-sized version—stirs up an impressive value of $350.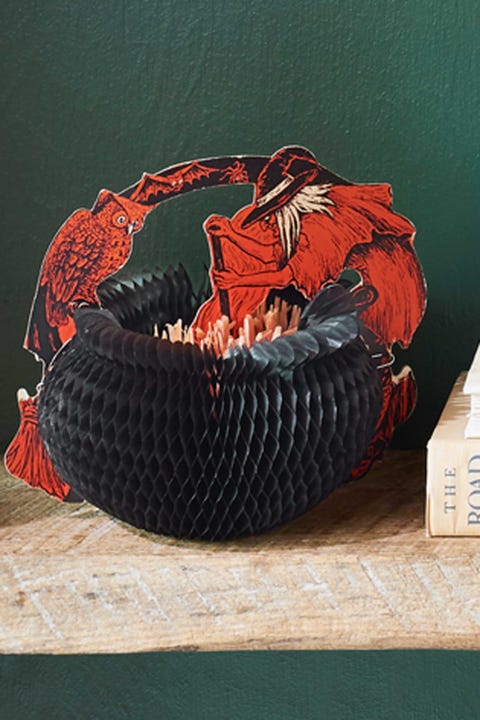 UN CHIEN ANDALOU (1929)
Luis Buñuel and Salvador Dalí present 17 minutes of bizarre, surreal imagery.
1930
Commonly placed on front doors or in coat closets, this wiggly, 55-inch-long fellow was introduced by Beistle in the 1930s and, depending on condition, can wrangle up to $75. When complete with original envelope packaging (not pictured), the price increases by more than a few bones to $150. Made of tissue paper and cardstock, the 1930s mini lanterns sitting on the side table are valued at $45 each.

THE BAT WHISPERS (1930)
A master criminal terrorizes the occupants of an isolated country mansion.
1931
Beistle Company also created an array of hats and masks for revelers. With little wear and intact paper fringe, these 1930s orange crepe-paper hats—part of a set of six—garner around $15 each.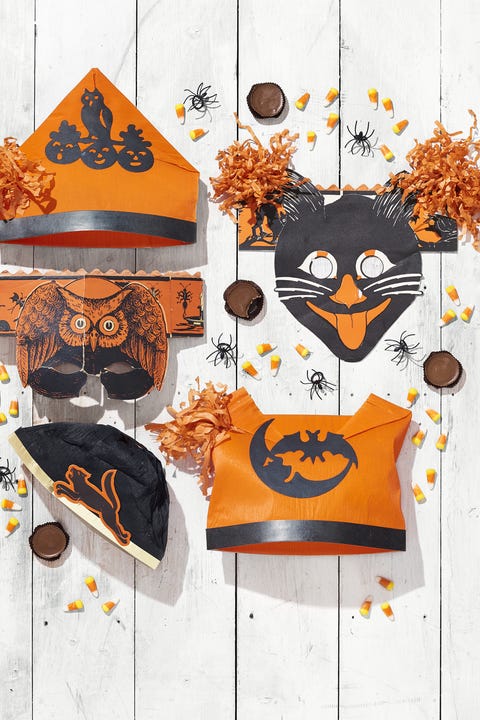 FRANKENSTEIN (1931)
An obsessed scientist assembles a living being from parts of exhumed corpses.


WATCH HERE!
1932
This rare 8mm film, converted to HD in 2013, depicts students of Hamlin Park School in Buffalo, New York, dressed in costume for Halloween 1932. In it, we see girls in Dutch and Colonial era dress; boys suited up like sailors, pirates, and cowboys; and both genders masquerading as clowns.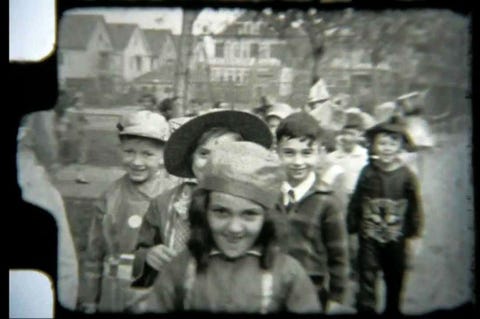 THE MUMMY (1932)
A resurrected Egyptian mummy stalks a beautiful woman he believes to be the reincarnation of his lover and bride.

1933
The '30s are considered to be the Golden Age of monster movies, with Dracula and Frankenstein appearing in cinemas in 1931, and King Kong and The Invisible Man in 1933. The horror classic The Bride of Frankenstein debuted in 1935.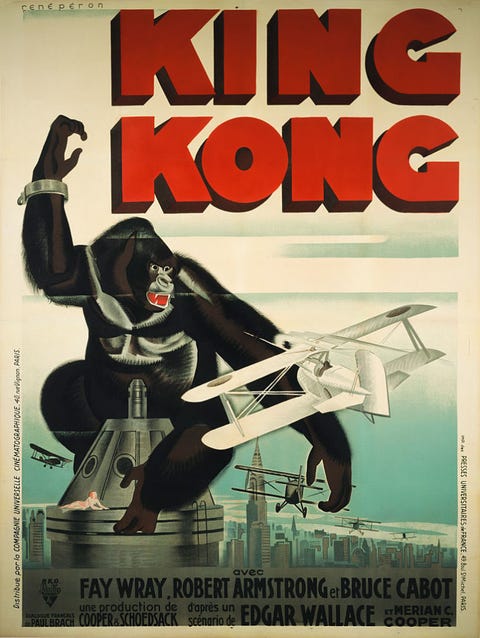 SECRET OF THE BLUE ROOM (1933)
Twenty years after 3 murders occur in a castle's "blue room", three men who each want to marry a beautiful girl decide to spend a night in the room to prove their bravery to her.
1934
Mickey Mouse, who made his official debut in the 1928 animated shortSteamboat Willie, became a popular character costume in the 1930s. This image appeared in the Halloween 1934 edition of the once-popular family newspaper Grit.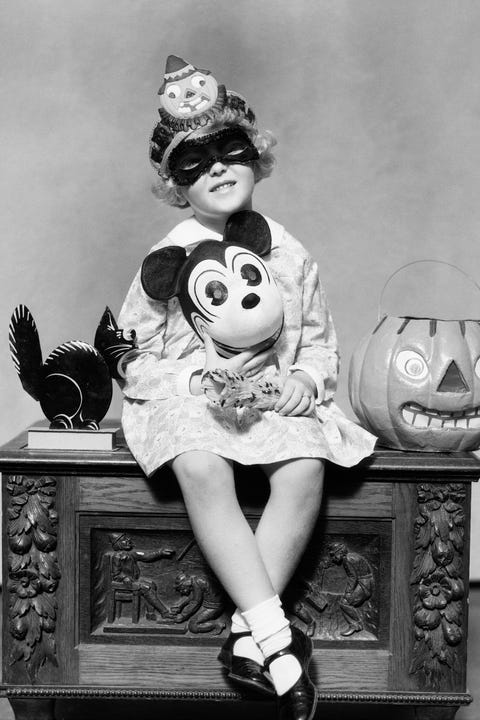 TWO MONKS (1934)
In a Gothic-styled monastery, a monk named Javier sees the face of another monk, Juan, and suddenly attempts to bludgeon him to death with a heavy crucifix. Both men then relate their own versions of a story of romantic rivalry between them. Javier, a consumptive musician, fell in love with and was betrothed to Anita. When his old friend Juan appeared, he was ecstatic. But soon, it seemed that Juan was making a play for Anita. When Javier found them in an apparently compromising position, a tussle ensued, and Anita was accidentally shot and killed. The two versions of the story differ significantly in Juan's motivations and in the details of Anita's death. Both men later became monks, leading to their latest encounter. As Juan begins to recover from the blow, Javier is subjected to horrific hallucinations.
1935
The Dionne quintuplets— the first set to survive more than a week—were born in May 1934 in Ontario, Canada, and instantly became a worldwide sensation. Fearing their impoverished parents wouldn't be able to protect them from exploitation, the government placed the baby girls in a special hospital; their mother, Oliva, fought for nine years to regain custody. Here, actress Lucille Ball (front and center) and a group of friends dressed as the quintuplets for a 1935 Halloween party.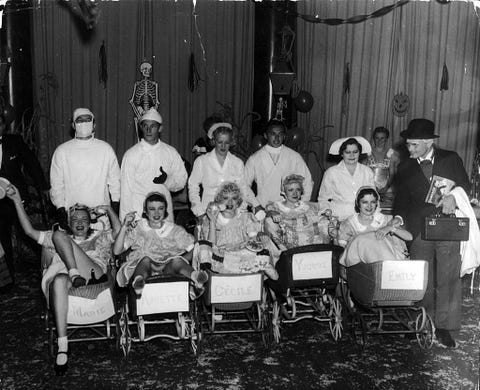 PHANTOM SHIP (1935)
During a horrific storm at sea, the crew realizes that there is a murderer among them who is killing them off one by one.
1936
Louis Armstrong led a Halloween-themed band in the 1936 film Pennies from Heaven.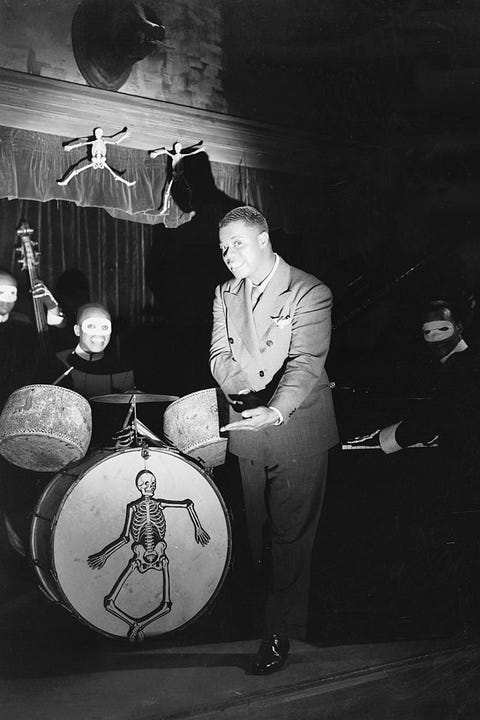 THE DEVIL-DOLL (1936)
An escaped convict uses miniaturized humans to wreak vengeance on those that framed him.
1937
As trick-or-treating became popular in the 1930s, companies like A.S. Fishbach and Ben Cooper began mass-producing Halloween costumes. Whereas previous decades saw children dressing as supernatural creatures like witches, ghosts, and goblins, costumes based on professions and characters in mass media became the norm. Here, a boy dressed as a police officer directs "traffic" while his dog plays the role of a driver.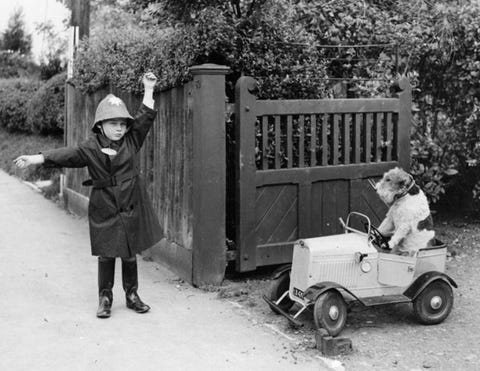 A NIGHT OF TERROR (1937)
A lottery winner breaks up with her fiancé and marries a fortune hunter who proves to be dangerous.
1938
On October 30, 1938,Orson Welles' radio broadcast of the H.G. Wells novel War of the Worlds caused mass panic among listeners who believed Earth really had been invaded by Martians.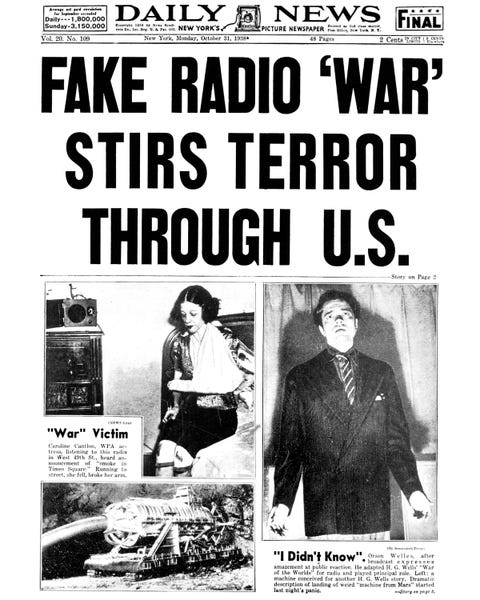 THEY DRIVE BY NIGHT (1938)
A convict, just out of prison, is implicated in a murder and goes on the run, hitching a ride with a truck driver.
1939
Bobbing for apples and eating contests were popular pastimes of children's Halloween parties in the late '30s.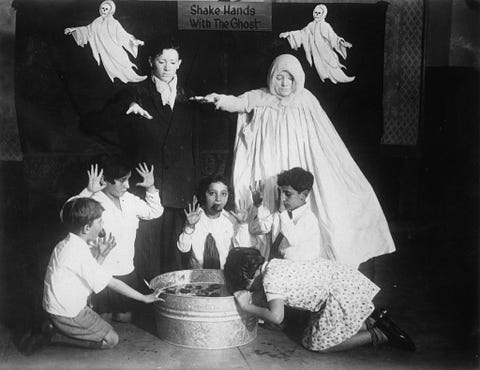 THE HOUND OF THE BASKERVILLES (1939)
Sherlock Holmes and Dr Watson investigate the legend of a supernatural hound, a beast that may be stalking a young heir on the fog-shrouded moorland that makes up his estate.
1940
According to TIME, the American tradition of trick-or-treating as we know it today may have started with kids trading songs for treats in the early 20th century, but it really gained popularity in the '30s and '40s, when children were offered everything from homemade treats to coins, toys, and fruit. It wasn't until the 1950s that candy companies began specifically promoting their products for Halloween. (Pictured here is a collection of vintage candy boxes.)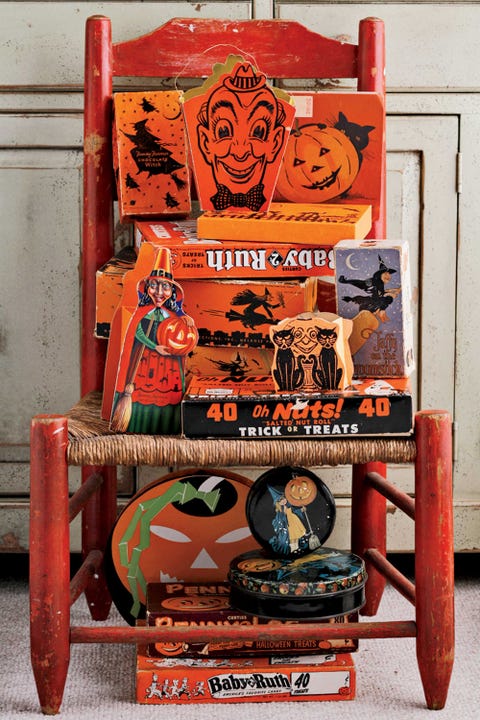 CRIMES AT THE DARK HOUSE (1940)
A madman kills a man who has just inherited a large estate, then impersonates his victim to gain entrance to the estate so he can murder his enemies.
1941
In the 1940s and '50s, classic costumes like witches, ghosts, mummies, pirates, and pumpkins were still popular. This witch costume, with a muslin mask and finished cotton garment and cape, is from the early 1940s.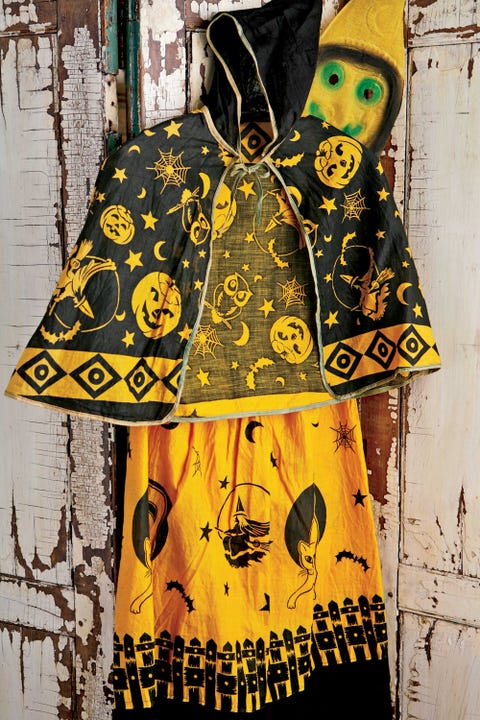 A practical man returns to his homeland, is attacked by a creature of folklore, and infected with a horrific disease his disciplined mind tells him can not possibly exist.
1942
This jazzy quartet features light embossing—a sure sign of their age—these cool cats bring in about $100 each. Reproductions of this 1940s design, which the company continues to make today, can be identified by their double-sided printing and a lack of embossing.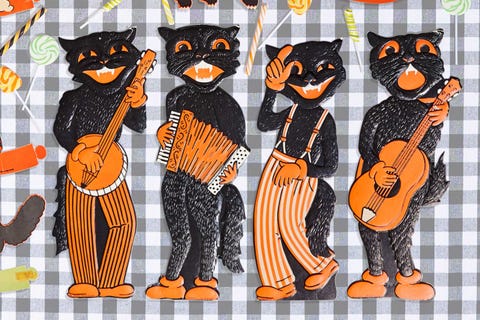 Surviving members of an aristocratic English family are threatened by a legendary monster when they venture out on chilly, foggy nights.
1943
After the U.S. entered World War II in 1941, Halloween parties offered a much-needed distraction from so-called "war strain." Community celebrations such as this one announced in the Chicago Tribune offered war bonds and stamps as prizes. Pictured here, a U.S. soldier and his girlfriend dance at a Halloween party in London.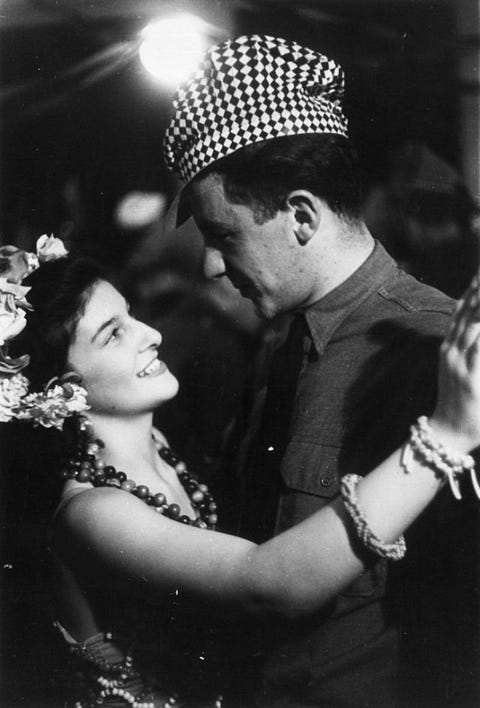 After being awakened, Larry Talbot chips Frankenstein's Monster out of a block of ice. When Talbot changes to the Wolf Man, the two creatures battle each other.
1944
In the '40s, novelty stores like the one pictured here sold a variety of paper decorations in different shapes: skeletons, jack-o'-lanterns, black cats, owls, and more.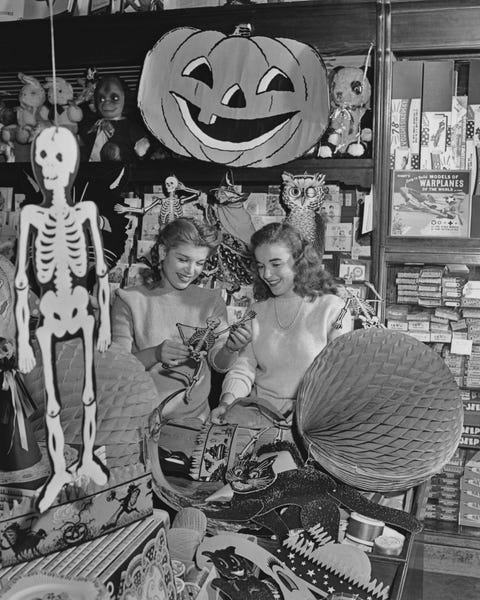 When a gentlewoman is found dead with her throat torn out, the villagers blame a supernatural monster. But Sherlock Holmes, who gets drawn into the case from nearby Quebec, suspects a human murderer.
1945
As fashion began to evolve and leg-baring became apropo, so did Halloween costumes. Here, three actresses dressed as "girls on the farm" bob for apples.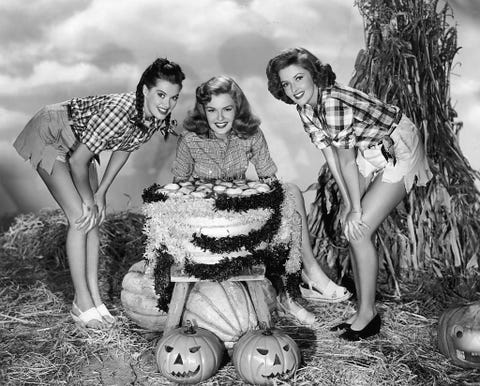 A corrupt young man somehow keeps his youthful beauty, but a special painting gradually reveals his inner ugliness to all.
1946
Clowns and cowboy costumes were all the rage when it came to Halloween in the late '40s.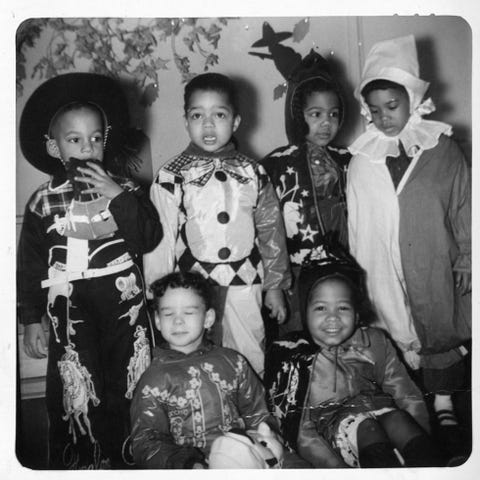 Nell Bowen, the spirited protege of rich Lord Mortimer, becomes interested in the conditions of notorious St. Mary's of Bethlehem Asylum (Bedlam). Encouraged by the Quaker Hannay, she tries to bring support to reforming Bedlam, but the cruel Master Sims who runs it has her committed there. The inmates, however, have the last say.
1947
Beistle's "Dancers," so called for their bouncy, accordion-like arms, legs, and torsos, were among the company's most popular decorations. This cat dancer, produced from circa 1947 to 1964, garners around $20.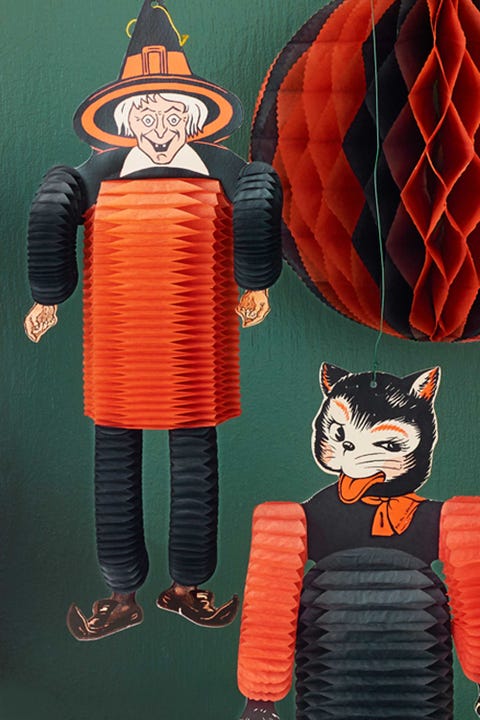 An old man and his sister are concealing a terrible secret from their adopted teen daughter, concerning a hidden abandoned farmhouse, located deep in the woods.
1948
Famed comedy duo Abbott and Costello kicked off their famed movie series with Abbott and Costello Meet Frankenstein. The pair would follow up the success of this film by "meeting" the Invisible Man, Dr. Jekyll and Mr. Hyde, and the Mummy, to name a few.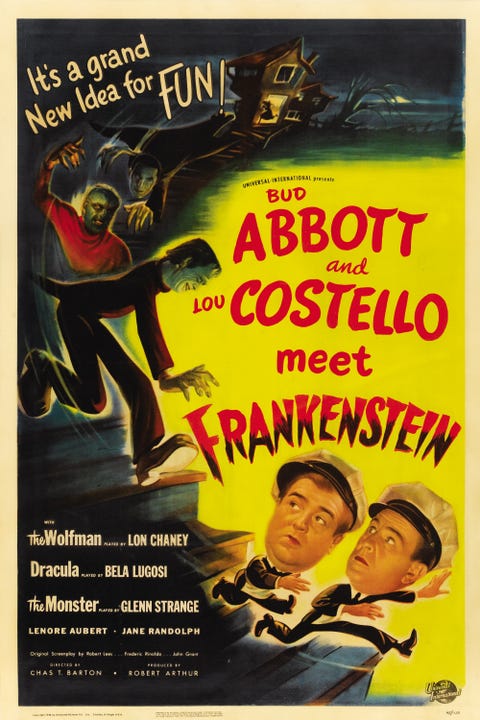 Emily, a pretty young Irish girl, gets a job on an English farm owned by the Tallent family. The local men take to her but the women don't, objecting to her flirtatious nature with their men and one woman, Bess Stanforth, is especially disturbed by her. When Dan, a man from Emily's past, shows up and accuses her of having tried to kill him Beth's suspicions are further aroused, and they're confirmed when Dan is found murdered in a local barn. Beth sets out to find out exactly who Emily is and to prove that she murdered Dan.
1949
Despite the vandalism that went hand in hand with Halloween night during the 1920s and '30s, by the 1950s, Halloween had transformed into a family-friendly holiday geared towards children. Thanks to the post-war baby boom, Halloween parties were moving away from town centers and into private homes and schools.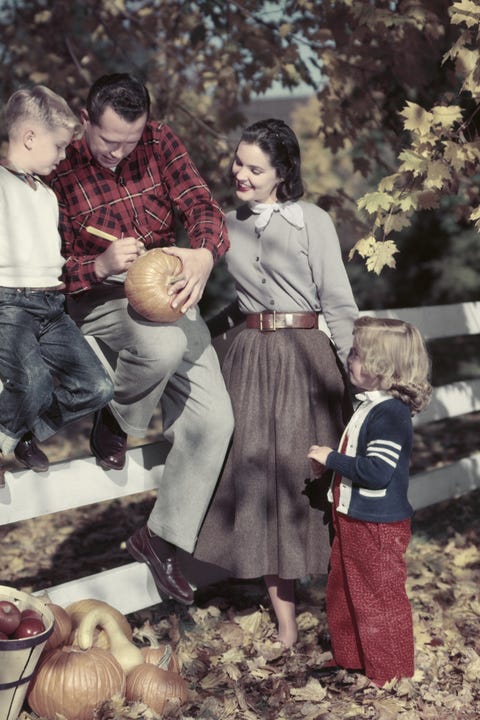 In a small town, a brewing romantic rivalry with a local tough and a school-teacher culminates in a terrifying ride in the night.
1950
After World War II, an optimistic and increasingly suburban America embraced the at-home cocktail hour—leading to a glut of novelty barware that included toxin-themed glasses like these. Two companies, Georges Briard and Ceraglass, began making "Name Your Poison" sets in the 1950s, issuing them in different shapes with varying graphics. Ceraglass likely manufactured this particular version in the late '60s.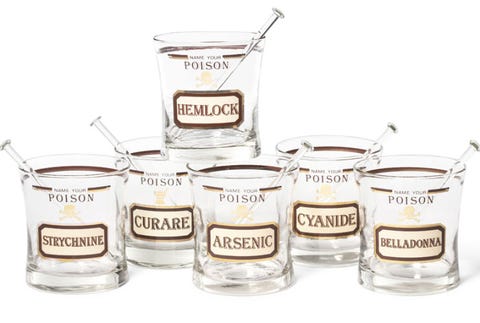 After their latest rocket fails, Dr. Charles Cargraves and retired General Thayer have to start over again. This time, Gen. Thayer approaches Jim Barnes, the head of his own aviation construction firms to help build a rocket that will take them to the moon. Together they gather the captains of industry and all pledge to support the goals of having the United States be the first to put a man on the moon. They build their rocket and successfully leave the Earth's gravitational pull and make the landing as scheduled. Barnes has miscalculated their fuel consumption however and after stripping the ship bare, they are still 100 lbs too heavy meaning that one of them will have to stay behind.
1951
Beginning in the 1940s, manufacturers such as such as Ben Cooper Inc. began making costumes and selling them through Sears, JC Penney, Woolworths, and local five-and-tens for as little as $1.25. This skeleton outfit and hooded muslin mask is from the early 1950s.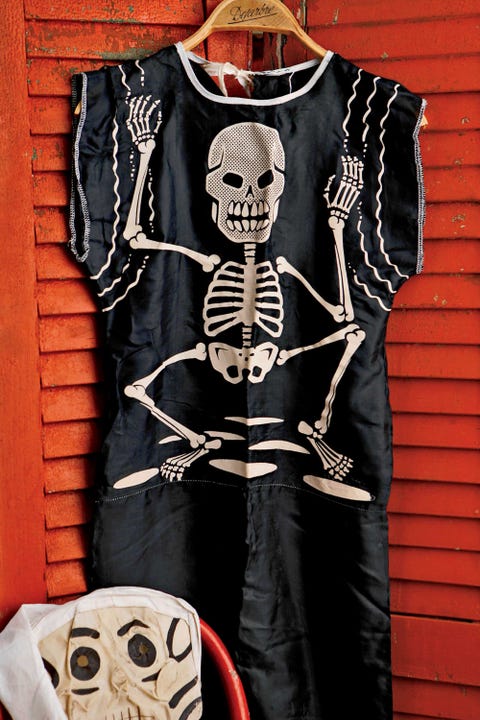 Scientists and American Air Force officials fend off a bloodthirsty alien organism while at a remote arctic outpost.
1952
This devil costume, complete with a folded cloth gauze mask, is from around 1952.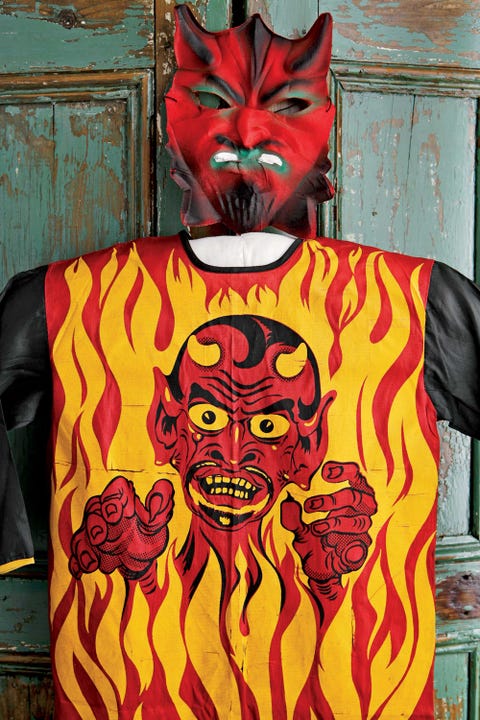 A psychopath on the run takes a job as a handyman at the house of a lonely war widow.
1953
Midcentury paper trick-or-treat bags sold for pennies at the local five-and-dime, as folks would later fill them with Bazooka Joe, Tootsie Pops, and Baby Ruths. "These days, expect to pay about $30 for a 1950s sack with a simple image, such as a jack-o'- lantern," says Bruce Elsass, one of the nation's preeminent collectors of Halloween accessories.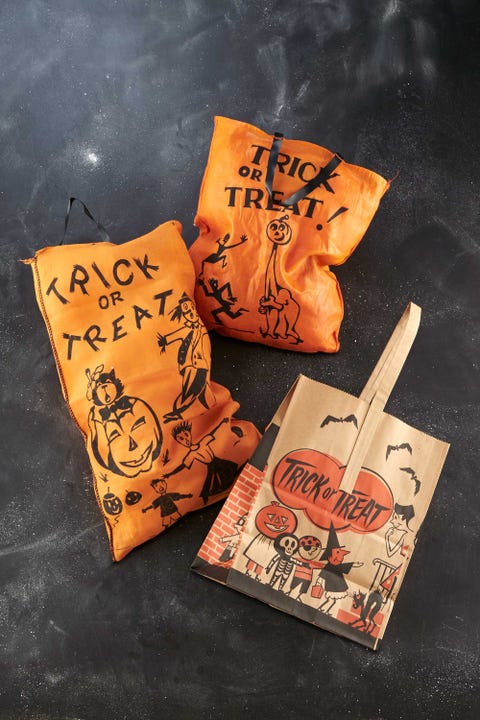 A small town in California is attacked by Martians, beginning a worldwide invasion.
1954
Nat King Cole was regular guest on The Ed Sullivan Show, appearing 13 times during the show's run. One of his most memorable appearances, though, was on the show's Halloween episode in 1954.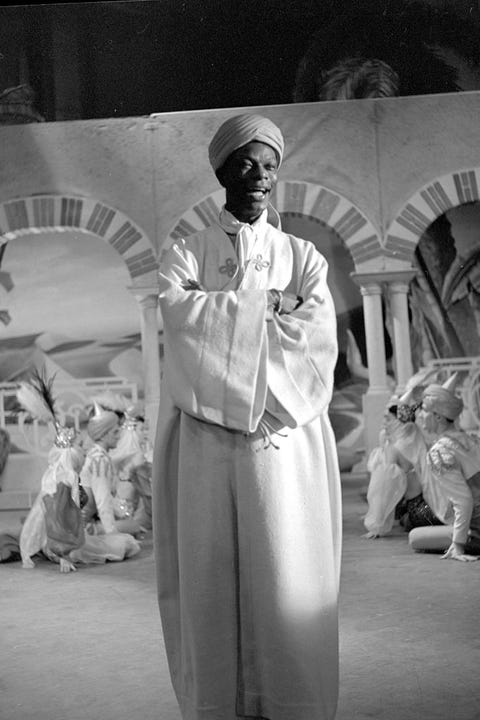 A strange prehistoric beast lurks in the depths of the Amazonian jungle. A group of scientists try to capture the animal and bring it back to civilization for study.
1955
It was 1955 that brought "The Legend of Sleepy Hollow," an episode from the popular TV show Disneyland, into homes across America.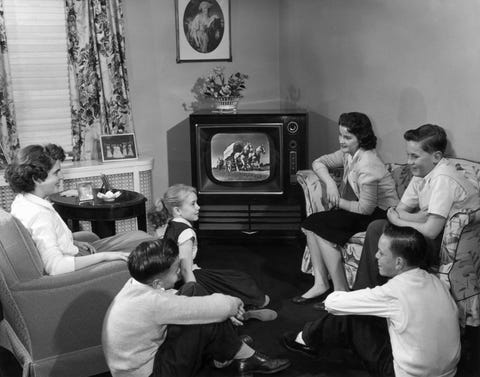 A spider escapes from an isolated Arizona desert laboratory experimenting in giantism and grows to tremendous size as it wreaks havoc on the local inhabitants.
1956
1956 saw the release of the horror film "Invasion of the Body Snatchers," starring Kevin McCarthy and Dana Wynter.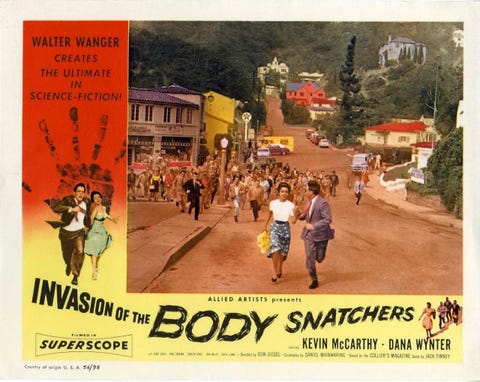 Extraterrestrials traveling in high-tech flying saucers contact a scientist as part of a plan to enslave the inhabitants of Earth.
1957
Since Sputnik launched October 4, 1957, it's no surprise that party-goers got creative by donning Sputnik-inspired costumes just weeks later. Here, a "Sputnik" and a soviet officer attend a Halloween party in California.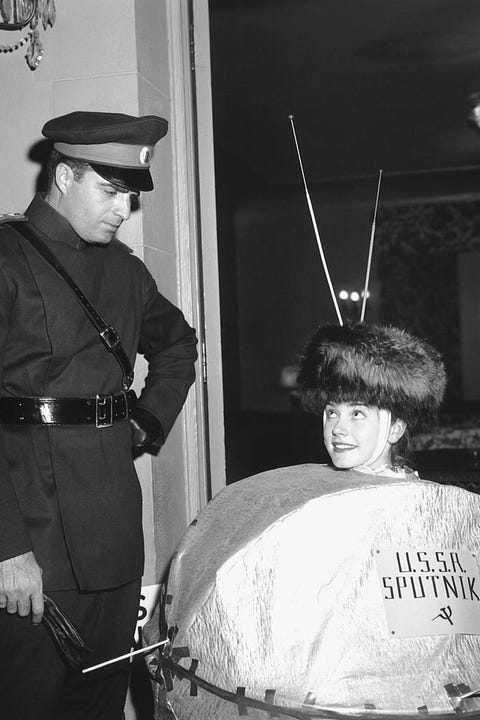 A kindly English botanist and a gruff American scientist lead an expedition to the Himalayas in search of the legendary Yeti.
1958
If you picked up a copy of the Sears catalogue in the fall of 1958, you'd see that kids could choose from an array of costumes including a hobo, a gypsy, a colonial girl, a robot, a bride, and a fairy princess, as well as characters from TV shows, like Lassie, Popeye, Bugs Bunny, and Zorro. Pictured here, actress Jayne Mansfield and her husband Mickey Hargitay celebrate celebrate daughter Jayne Marie's birthday with a Halloween fete in 1958.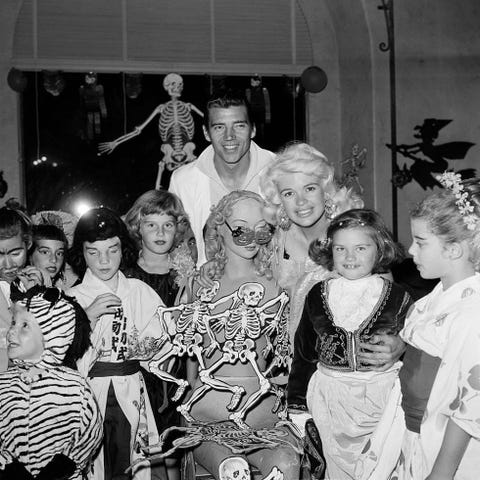 A scientist has a horrific accident when he tries to use his newly invented teleportation device.
1959
Just in time for Halloween, The Twilight Zone premiered on October 2 on CBS to wide acclaim. We have a feeling Halloween might have felt just a little bit spookier that year…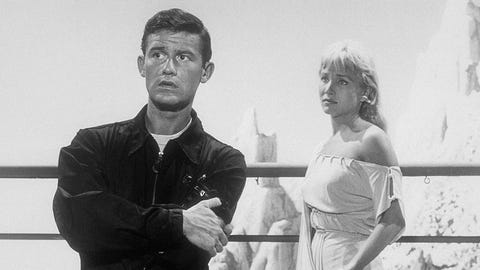 A millionaire offers $10,000 to five people who agree to be locked in a large, spooky, rented house overnight with him and his wife.
1960
This rather graphic monster costume, with eyeballs printed on its fabric for added creepiness, is from the 1960s. The costume includes a more modern hard plastic mask.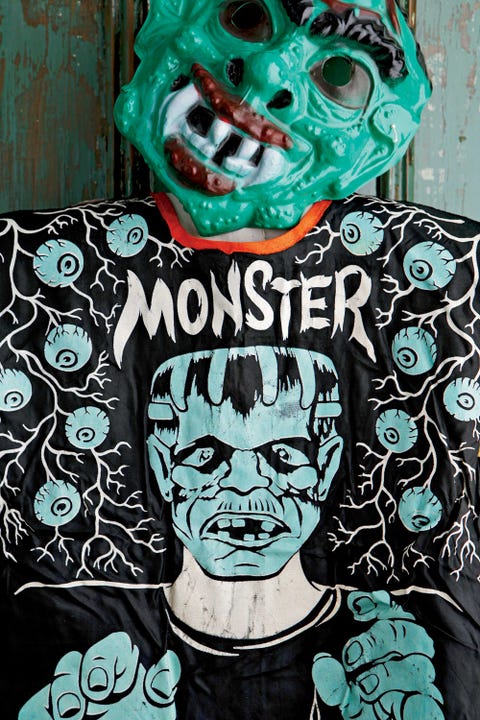 A Phoenix secretary embezzles forty thousand dollars from her employer's client, goes on the run, and checks into a remote motel run by a young man under the domination of his mother.
1961
Attorney General Robert F. Kennedy and his wife, Ethel, give out Halloween candy to kids during a "Trick of Treat for UNICEF" event.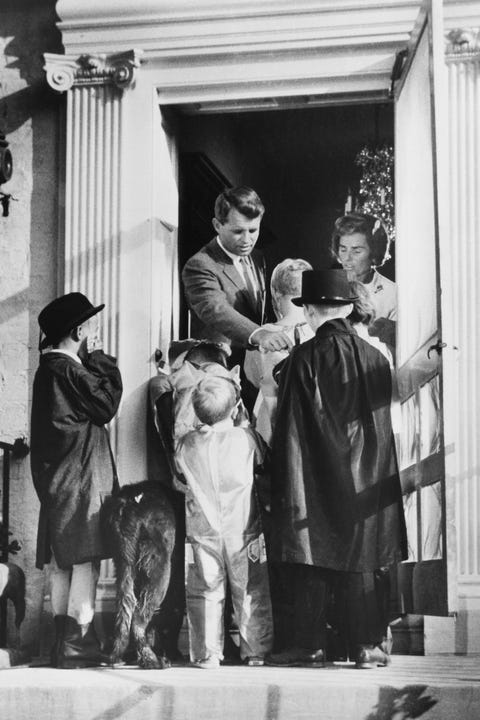 A wheelchair-bound young woman returns to her father's estate after ten years, and although she's told he's away, she keeps seeing his dead body on the estate.
1962
Halloween's equivalent of "Jingle Bells," the catchy song "Monster Mash," by Bobby Pickett and the Crypt-Keepers, was released two weeks before Halloween in 1962 and quickly jumped to #1 on the Billboard chart.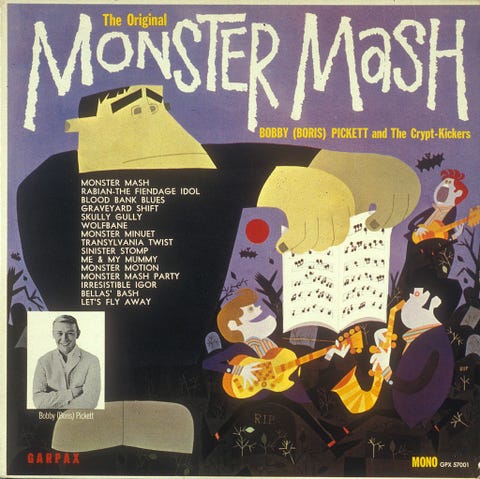 A lawyer's family is stalked by a man he once helped put in jail.
1963
This heartbreaking photo was taken just weeks before JFK's assassination as he previewed children Caroline (left) and John Junior's Halloween costumes in 1963.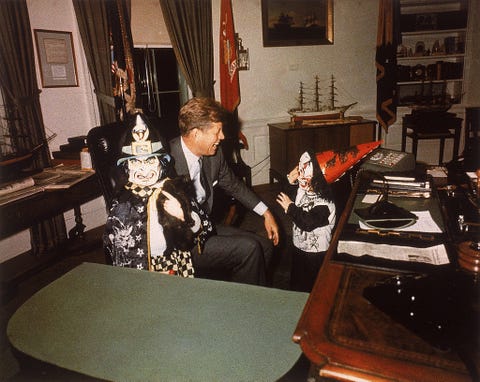 A wealthy San Francisco socialite pursues a potential boyfriend to a small Northern California town that slowly takes a turn for the bizarre when birds of all kinds suddenly begin to attack people.
1964
The Addams Family hit the air on September 18, 1964, and the show's seventh episode, "Halloween with the Addams Family," became an instant classic in its own right. It was so revered, in fact, NBC turned it into a television movie in 1977, 11 years after the show went off the air.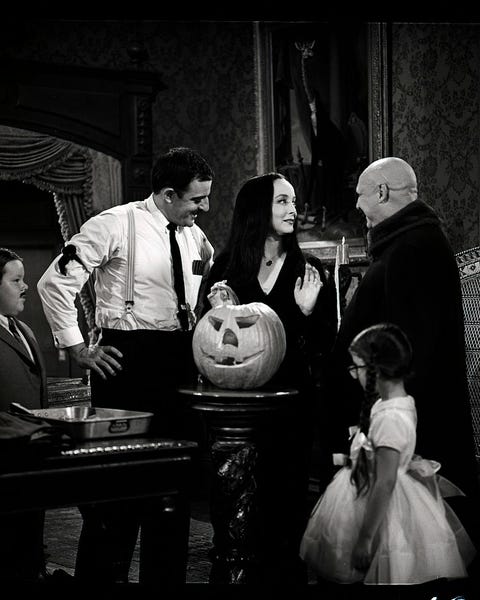 When a disease turns all of humanity into the living dead, the last man on earth becomes a reluctant vampire hunter.
1965
Typically molded into the shape of animals or ghouls, masks dating from the 1950s and '60s—like this mid-1960s glow-in-the-dark skull—often sell for $25 to $30. (An original box can add $25 to the price.)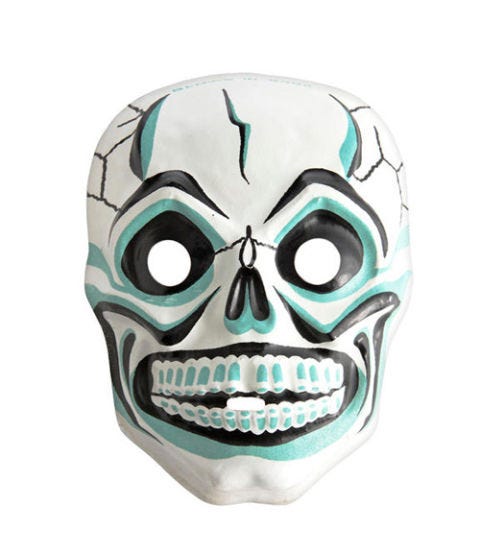 Aboard a British train, mysterious fortune teller Dr. Schreck uses tarot cards to read the futures of five fellow passengers.
1966
Believe it or not, pumpkins have names and none is more iconic than the Howden pumpkin, Developed in the '60s, the variety is known for its large size, handle-like stem, and bright orange color, according to NPR.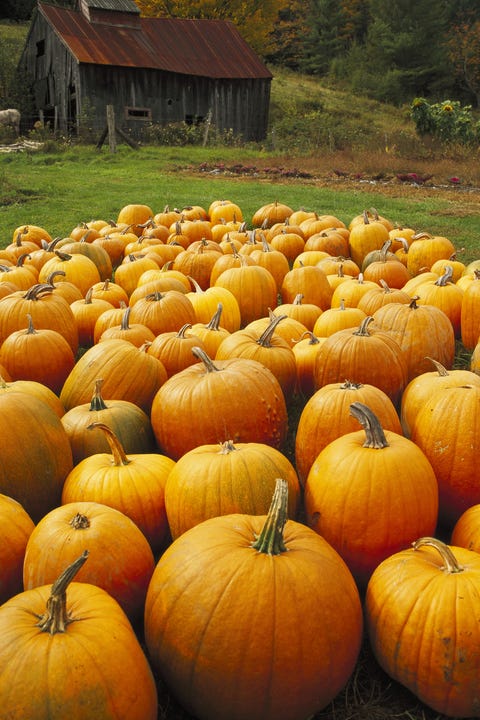 A Carpathian village is haunted by the ghost of a murderous little girl, prompting a coroner and a medical student to uncover her secrets while a witch attempts to protect the villagers.
1967
It should come as no surprise to anyone that a show named Bewitched would have the best Halloween episodes. The Halloween episode in the fourth season of the beloved show saw Samantha and Tabitha trick-or-treating—with the help of three ghouls.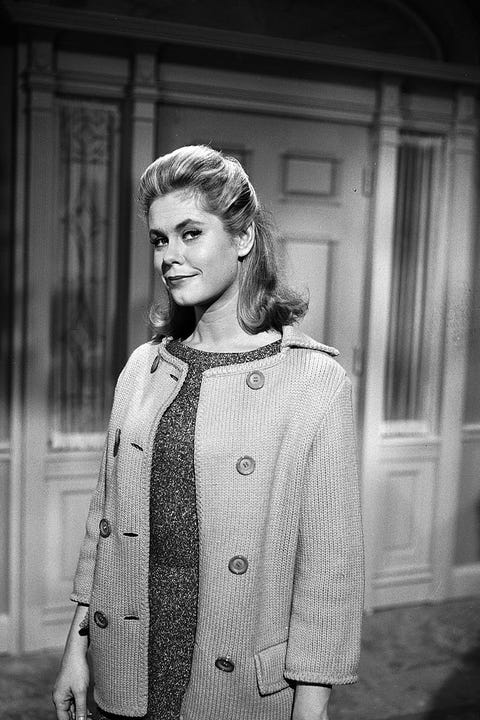 VIY 
(1967)
A young priest is ordered to preside over the wake of witch in a small old wooden church of a remote village. This means spending three nights alone with the corpse with only his faith to protect him.
1968
A year after divorcing husband Bobby Darin, Sandra Dee (who was 26 at the time) bounced back with a Halloween-themed photo shoot at Universal Studios.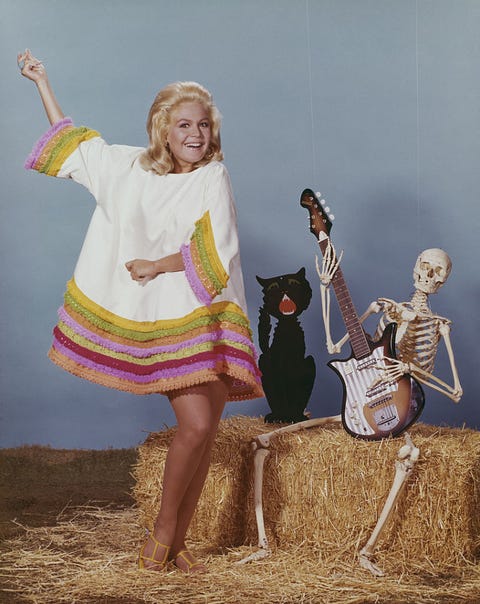 A young couple moves in to an apartment only to be surrounded by peculiar neighbors and occurrences. When the wife becomes mysteriously pregnant, paranoia over the safety of her unborn child begins to control her life.
1969
Disney's first Haunted Mansion opened at Disneyland on August 9, 1969. In 2001, Disneyland launched the Haunted Mansion Holiday; from late September to early January, characters and holiday adornments inspired by Tim Burton's The Nightmare Before Christmas are added to the attraction.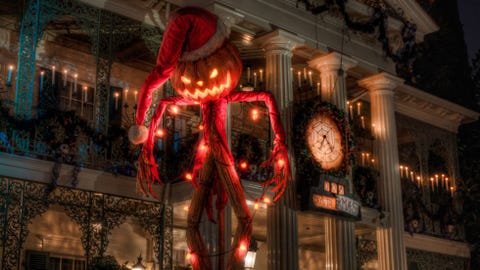 An aging widow hides a deadly secret which she will do anything to keep buried.
1970
In the 1950s, Beistle's largely black and orange spooky designs began to feature more playful, kid-friendly imagery and a wider variety of colors. This friendly faced 1970s ghost was a departure from black cats, skeletons, and jack-o'-lanterns the company was known for.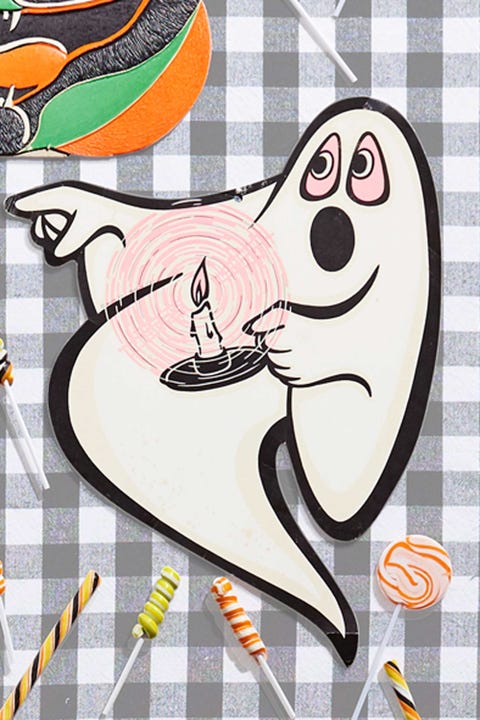 A wealthy, fatherless British clan kidnaps bums and hippies and forces them to participate in an elaborate role-playing game in which they are the perfect family; those who refuse or attempt escape are ritualistically murdered.
1971
The '70s were an eventful decade for Halloween candy. In the first half, Reese's Peanut Butter Cups became so popular that Hershey Food Corporation had to double production in order to meet global demand. Meanwhile, Laffy Taffy was introduced in 1971, and Bubble Yum was introduced in 1975.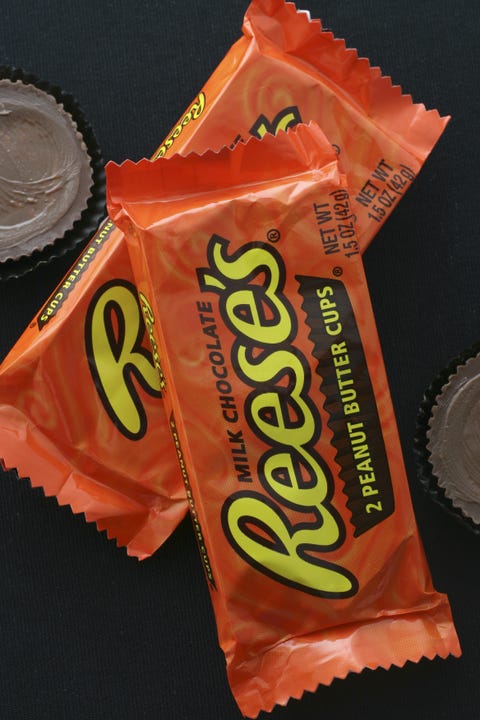 An anthology of four horror stories revolving around a mysterious rental house in the U.K.
1972
The costumes of the '70s were simple, affordable, and stress-free. They typically consisted of a full-face mask and a plastic smock—like the ones seen here—and the whole thing came ready to wear, in a box. Popular picks during this decade included Wonder Woman, Raggedy Ann, and Barbie.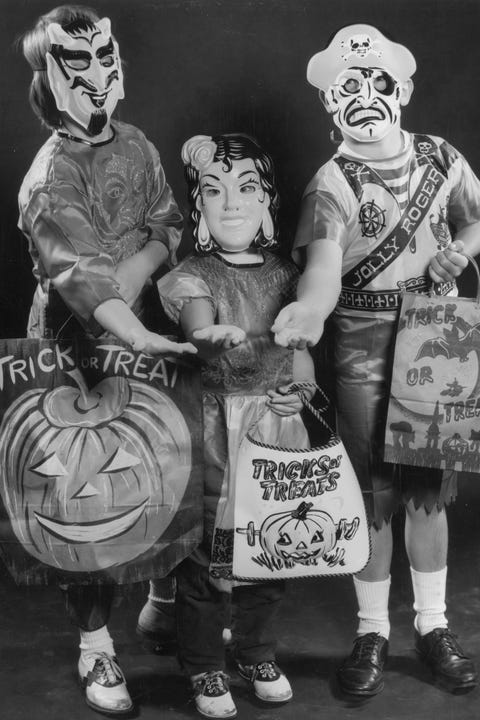 Five strangers get lost in a crypt and, after meeting the mysterious Crypt Keeper, receive visions of how they will die.
1973
On December 26, 1973, The Exorcist hit theaters, horrifying audiences everywhere. The movie—which went on to become one of the highest-grossing films ever—was so disturbing that theaters distributed "Exorcist barf bags." Still to this day, the film is often regarded as one of the scariest movies ever made.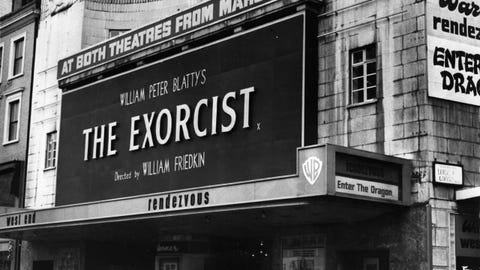 An anthology of five horror stories shared by five men trapped in the basement of an office building.
1974
Tobe Hooper's The Texas Chainsaw Massacre was released on October 1, 1974, quickly becoming everyone's worst nightmare. The intensely brutal film spawned a film franchise, and Leatherface, the film's villain, is still a common costume today. Also in 1974, puppeteer Ralph Lee started the famous Village Halloween Parade in New York City.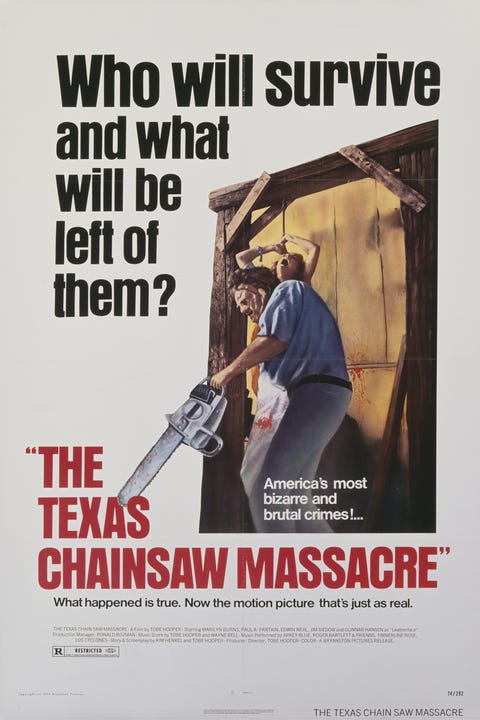 A cop chases two hippies suspected of a series of Manson family-like murders; unbeknownst to him, the real culprits are the living dead, brought to life with a thirst for human flesh by chemical pesticides being used by area farmers.
1975
In the '70s, Junior Chamber International (Jaycees) clubs became known for encouraging members to stage haunted houses in abandoned buildings as a way to raise money. In 1975, Jaycees Jim Gould and Tom Hilligoss of the Bloomington, Illinois chapter, wrote a book about how to create a haunted house, making them the world's first haunted house staging experts.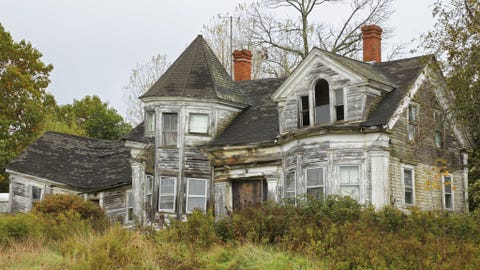 Three bizarre horror stories all of which star Karen Black in four different roles playing tormented women.
1976
Televised variety specials were popular during the 1970s, so it's no wonder that the decade saw its fair share of Halloween variety shows. Airing on ABC, The Paul Lynde Halloween Special was nothing short of bizarre, at least by today's standards. How strange was it? Let's just say special guests included Betty White, Florence Henderson, and heavy metal rock band KISS.
A bureaucrat rents a Paris apartment where he finds himself drawn into a rabbit hole of dangerous paranoia.
1977
In 1977, no costumes were more coveted than those inspired by Star Wars. Ben Cooper Inc. was one of the first licensees of the guises, and they quickly sold out, leading to what some called the "Great Star Wars Halloween Costume Shortage" of 1977. This led many Star Wars fanatics to resort to homemade get-ups.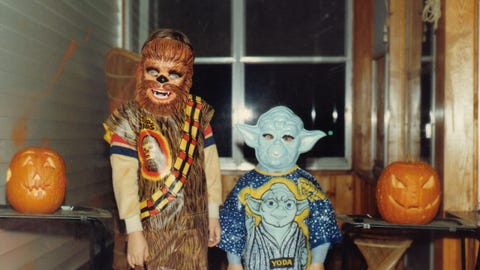 A couple is terrorized in their new house haunted by the vengeful ghost of the woman's former husband who possesses her young son.
1978
The knife-wielding Michael Myers made his film debut on October 25, 1978 in Halloween. The movie went on to become a lengthy film franchise, with the most recent release in 2007. As you'd expect, Mike Myers's navy blue jumpsuit and white mask can still be found in costume stores today.
The second half of the decade marked the beginning for some of today's most popular Halloween sweets. Jelly Belly beans were introduced in 1976, and the Ring Pop was invented in 1979. That same year, the Twix candy bar, already popular around the world, was introduced to candy lovers in the U.S.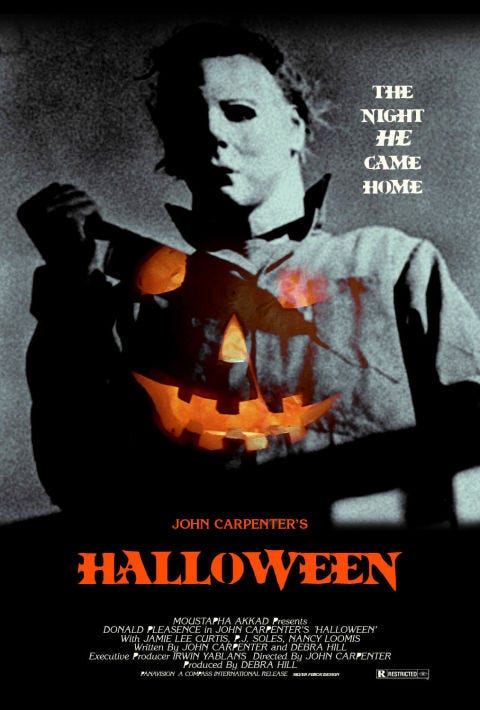 Following an ever-growing epidemic of zombies that have risen from the dead, two Philadelphia S.W.A.T. team members, a traffic reporter, and his television executive girlfriend seek refuge in a secluded shopping mall.
1979
The second half of the decade marked the beginning for some of today's most popular Halloween sweets. Jelly Belly beans were introduced in 1976, and the Ring Pop was invented in 1979. That same year, the Twix candy bar, already popular around the world, was introduced to candy lovers in the U.S.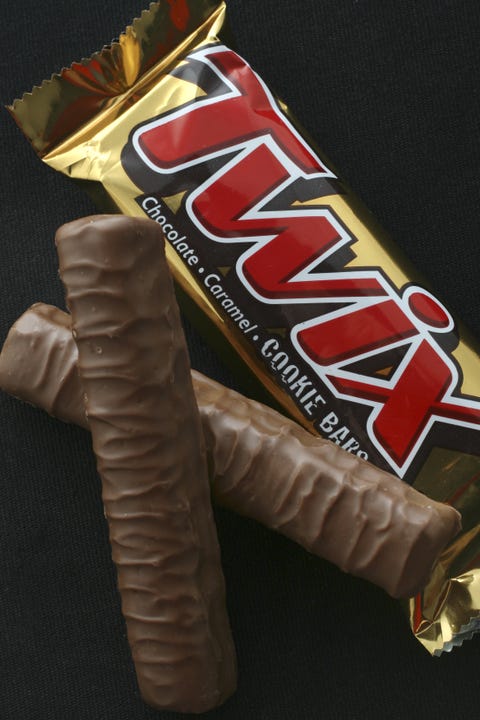 A novelist and a young horror fan attempt to save a small New England town which has been invaded by vampires.
1980
The Shining, one of Jack Nicholson's most well-known films, was released this year. The film is still considered one of the scariest of all time, and the Grady twins went on to inspire Halloween costumes for years to come.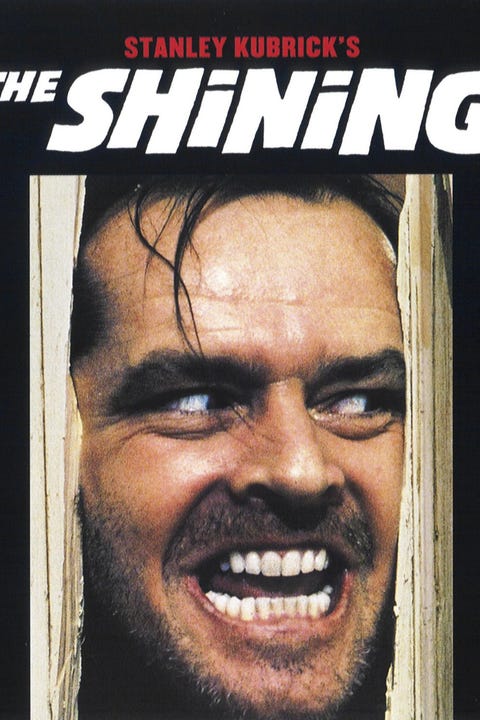 A man staying at a secluded historical mansion finds himself being haunted by the presence of a spectre.
1981
In the early '80s, masks remained a popular Halloween choice, especially masks of Ronald Reagan, who became president in 1981.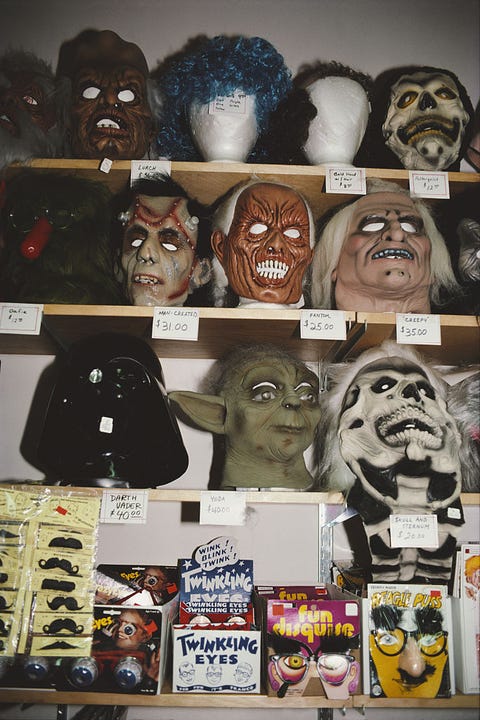 Five friends travel to a cabin in the woods, where they unknowingly release flesh-possessing demons.
1982
This year saw the release of two terrifying movies that became horror classics: The Poltergeist and The Thing.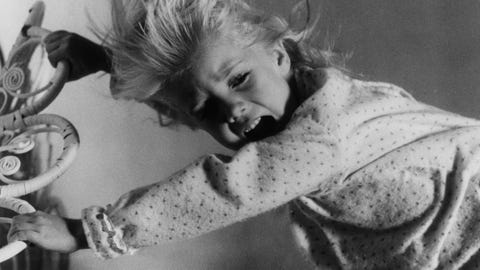 An anthology which tells five terrifying tales based on the E.C. horror comic books of the 1950s.
1983
It wasn't released in time for Halloween, but on December 2, 1983, Michael Jackson dropped his legendary, 13-minute film for Thriller. From Michael's iconic red leather outfit to the popular zombie-dance, the groundbreaking music video made a permanent mark on entertainment (and Halloween) history.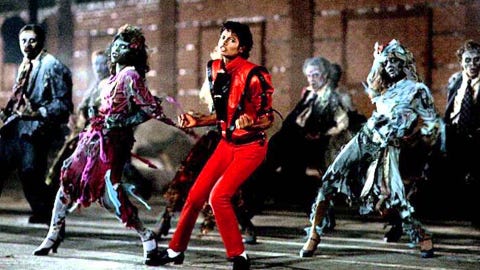 A man awakens from a coma to discover he has a psychic ability.
1984
Wes Craven's The Nightmare on Elm Street was released on November 9, 1984. The horror film introduced the masses to one of Halloween's most popular villains, Freddie Krueger.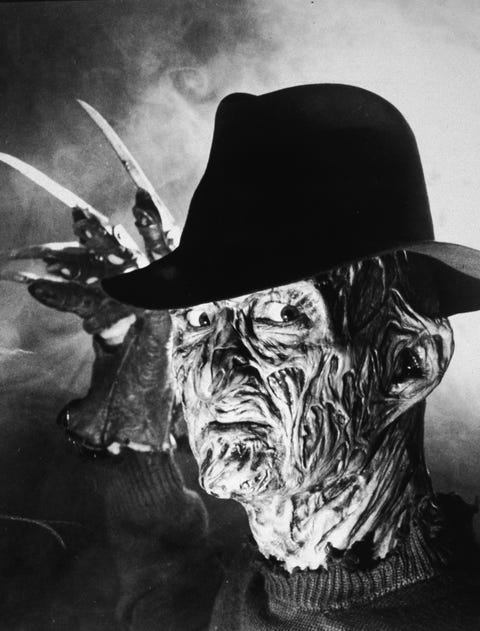 A young psychic on the run from himself is recruited by a government agency experimenting with the use of the dream-sharing technology and is given the inverse task of planting an idea into the mind of the U.S. president.
1985
Offering some insight into what Halloween was like during the '80s, this vintage Halloween safety video taught kids all about the dos and don'ts of October 31. Narrated by an animated pumpkin, the video covered everything from carving pumpkins to avoiding creepy strangers.
A troubled writer moves into a haunted house after inheriting it from his aunt.
1986
Children line up outside Park Will Elementary in Denver, waiting for their Halloween parade to start. While many schools staged Halloween parades at school during the '80s and '90s, the tradition has come under fire in more recent years due to concerns about students being left out.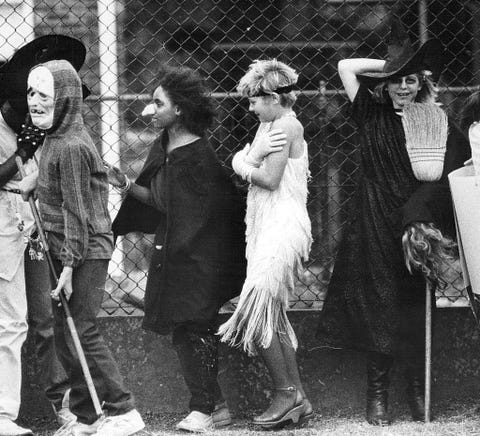 A young man who escapes the clutches of a murderous hitch-hiker is subsequently stalked by the hitcher and framed for his crimes.
1987
The desire to turn anything and everything into a pumpkin isn't anything new. The Union Oil Company began painting their Torrance, California petroleum storage tank to like a pumpkin in the 1950s. Shown here nearly two decades later, it has remained a fixture in the area.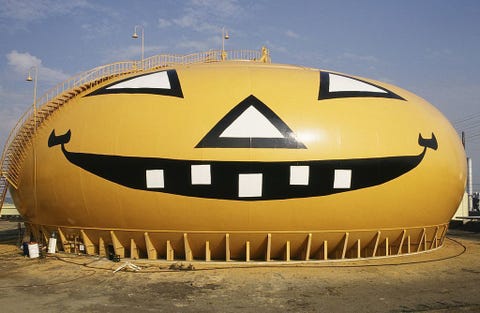 The lone survivor of an onslaught of flesh-possessing spirits holes up in a cabin with a group of strangers while the demons continue their attack.
1988
The Trick-or-Treat for UNICEF tradition dates back to the '50s. Here, children dance at one of the nonprofit's annual Halloween fundraising drives in 1988, where over $2 million was raised to help children in developing countries—a big leap from the program's inaugural year, which collected $17.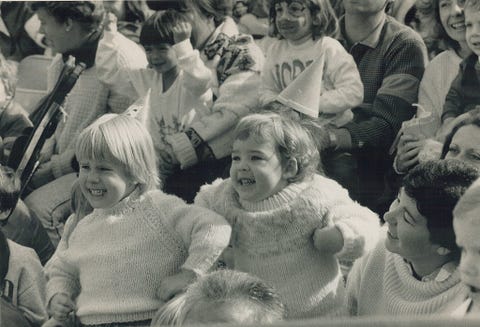 An anthropologist goes to Haiti after hearing rumors about a drug used by black magic practitioners to turn people into zombies.
1989
Celebrating Halloween at the White House is a tradition that dates back to 1958 when Mamie Eisenhower put up decorations for the first time. In 1989, the Bushes hosted a Halloween party for 600 schoolchildren.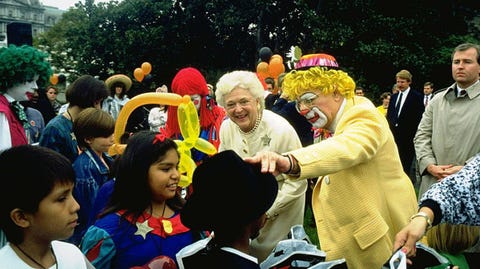 After tragedy strikes, a grieving father discovers an ancient burial ground behind his home with the power to raise the dead.
1990
Therapy dog programs become widespread in hospitals such as the Torrance Memorial Medical Center, which launched their Pet Assisted Therapy program this year. While specially-trained dogs visit patients each year, Halloween is extra-special, since the pups dress in costume.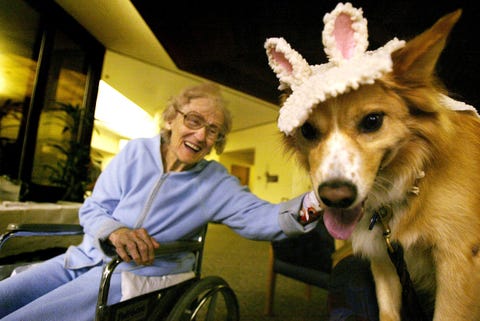 Mourning his dead child, a haunted Vietnam War veteran attempts to uncover his past while suffering from a severe case of dissociation. To do so, he must decipher reality and life from his own dreams, delusions, and perceptions of death.
1991
A Halloween blizzard covered the Midwest with snow from October 31st to November 3rd in 1991. Of course, not even harsh weather could keep trick-or-treaters inside!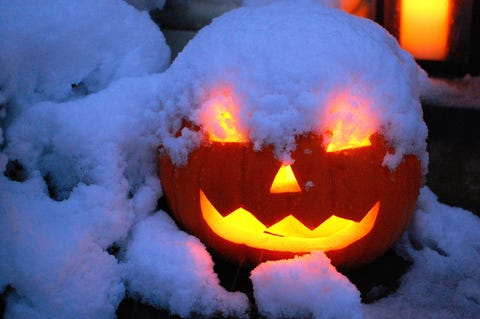 Two adults and a juvenile break into a house occupied by a brother and sister and their stolen children. There, they must fight for their lives.
1992
If you have one of these pumpkin pails from McDonald's sitting around your home, it probably dates back to the early '90s. The MicWhich and McGhost were first introduced in 1990, but went through a few updates in the following years.

A young FBI agent disappears while investigating a murder miles from Twin Peaks that may be related to the future murder of Laura Palmer; the last week of the life of Laura Palmer is chronicled.
1993
Ever since this now-classic Tim Burton movie premiered in 1993, there's been debate about whether it was intended to be a Halloween movie or a Christmas movie. But in 2015, Henry Selick, the movie's director, spoke up to settle the debate. "It's a movie about Halloween, and the people of Halloween, and how they react to something like Christmas," he explained.
An Arizona logger mysteriously disappears for five days in an alleged encounter with a flying saucer in 1975.
1994
At first, the internet was used to send files from one computer to another. But in 1991, communication as we know it changed forever: The World Wide Web was introduced as a platform for ideas to be exchanged. Soon after, e-commerce picked up, giving us an easier way to shop for Halloween costumes and party decorations.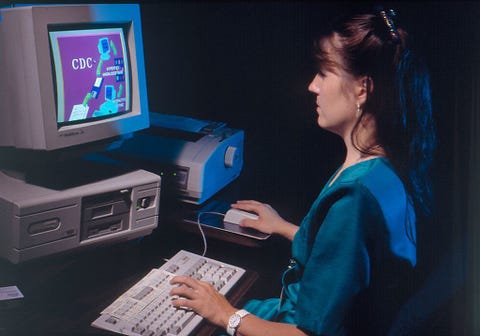 An insurance investigator begins discovering that the impact a horror writer's books have on his fans is more than inspirational.
1995
The '90s saw a return to homemade costumes as people cobbled together ways to dress as their favorite actors and singers. Group costumes also saw a surge in popularity during the mid-'90s (hello, Spice Girls!).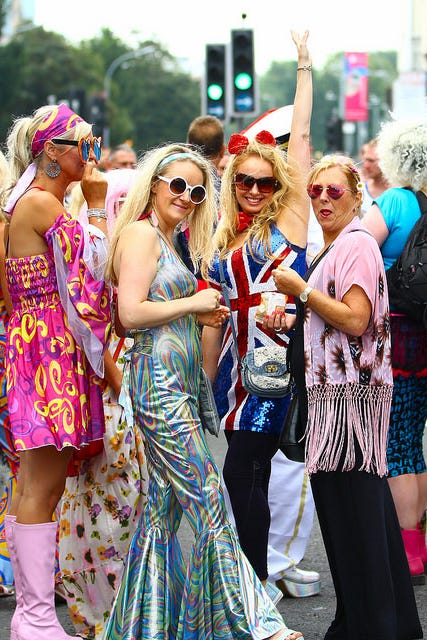 A New York philosophy grad student turns into a vampire after getting bitten by one, and then tries to come to terms with her new lifestyle and frequent craving for human blood.
1996
The movie Scream, which premiered on December 20, 1996, would go on to inspire one of the most popular costumes of the decade.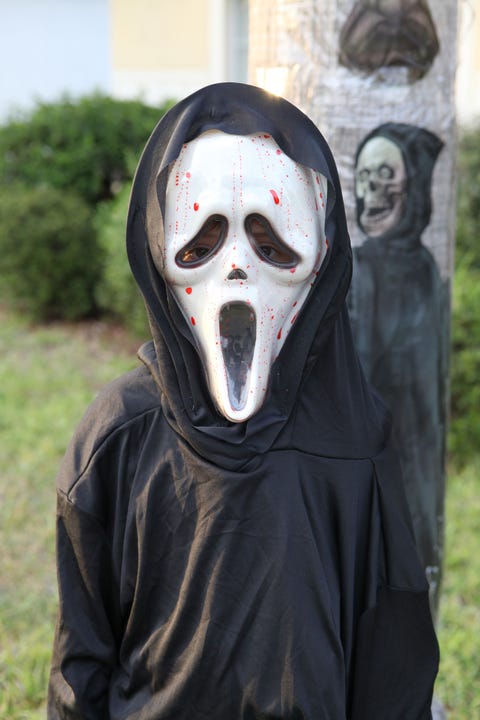 A young policewoman slowly goes insane while tracking down an elusive serial rapist/killer through Italy when she herself becomes a victim of the brutal man's obsession.
1997
Katie Couric, Al Roker, Ann Curry and Matt Lauer show off their Halloween costumes on set of the TODAY show.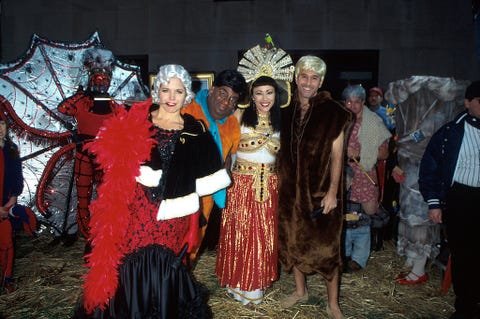 A rescue crew investigates a spaceship that disappeared into a black hole and has now returned…with someone or something new on-board.
1998
Disney released Halloweentown in 1998, and the movie quickly captured hearts across the country, becoming a holiday classic to watch with the whole family year after year. Fun fact: St. Helens, Oregon, the city where much of the original movie was filmed has its own Halloweentown celebration each year.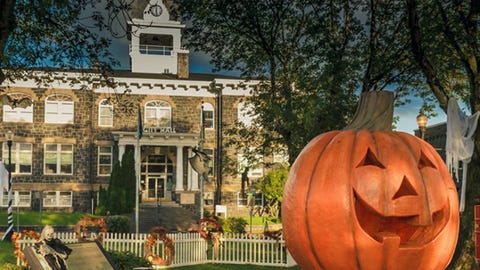 A reporter and her ex-husband investigate a cursed video tape that is rumored to kill the viewer seven days after watching it.
1999
If you went to a Halloween party in 1999, you definitely spotted at least one person dressed in Britney's signature school girl costume, complete with knee high socks.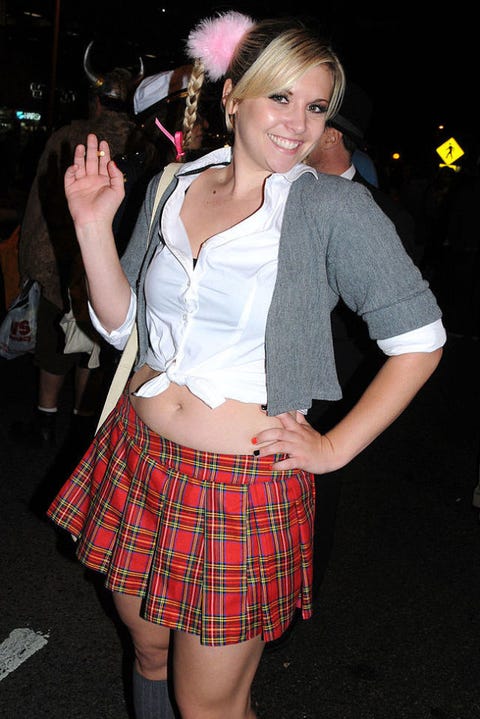 A dangerous blizzard hits an isolated town and brings along a mysterious stranger intent on terrorizing people for his own desires.
2000
Crowds gathered at the Halloween Bash 2000 Car Show in Pasadena to see The Munster Koach, which was featured in the popular TV show, The Munsters.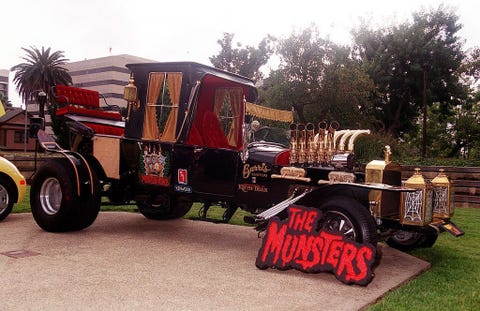 JU-ON 
(2000 VIDEO)
A teacher visits the house of one of his students after the boy goes missing, only to have a horrifying excuse for his absence from school.
2001
Time to break out your Gryffindor gear, black cape, and wand. Harry Potter and the Sorcerer's Stone, the first movie in the wildly popular series, was released in 2001, becoming a source of Halloween costume inspiration for years to come.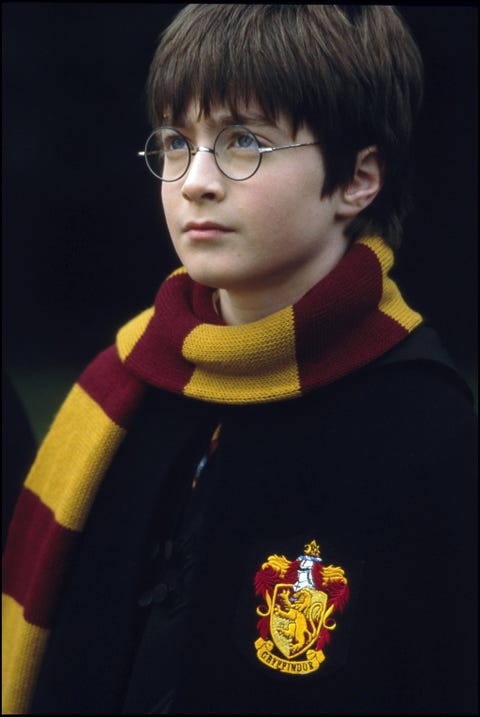 Two groups of people discover evidence that suggests spirits may be trying to invade the human world through the Internet.
2002
The Ring, one of the most popular and iconic horror movies ever, is released this year.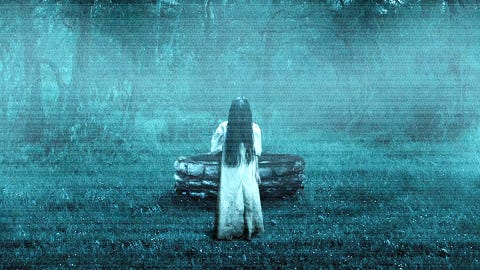 A routine military exercise turns into a nightmare in the Scotland wilderness.
2003
Known as the "Halloween Storms of 2003," there were epic solar storms recorded all over the world on the nights leading up to and on Halloween in 2003, according to NASA. The holiday was marked by power outages all over the U.S. and red or green skies seen in several cities in Texas and Florida.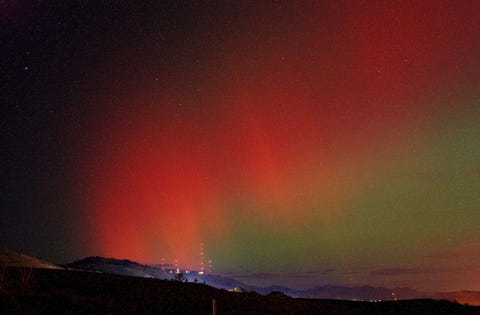 Christmas Eve. On his way to his in-laws with his family, Frank Harrington decides to try a shortcut, for the first time in 20 years. It turns out to be the biggest mistake of his life.
2004
While risqué costumes are nothing new, the movie Mean Girls ridiculed their popularity when the main character Cady realizes she is the only girl at her high school Halloween party not wearing lingerie.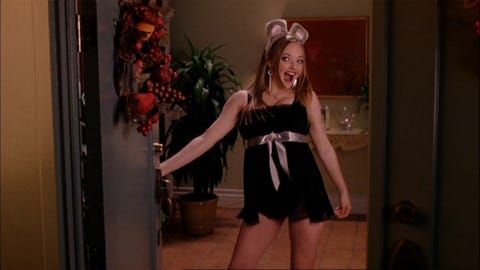 Ginger's sister Brigitte, now a werewolf herself, must try to find a cure for her blood lust before the next full moon while hiding out in a rehab clinic from a relentless werewolf.
2005
Lightsabers are the go-to Halloween accessory this year. The popularity of Star Wars costumes reach a new peak this year thanks to the release of the Star Wars: Episode III–Revenge of the Sith.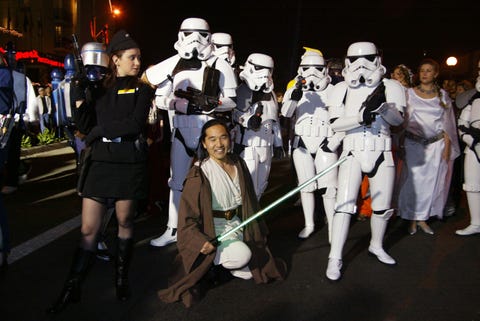 A Gulf war veteran is wrongly sent to a mental institution for insane criminals, where he becomes the object of a doctor's experiments, and his life is completely affected by them.
2006
Trunk-or-treating, aka the practice of Halloween tailgating, gains popularity. "Organizers of this and several other trunk-or-treats do not know for sure how the idea came about, or where and when the first event of its kind took place," the New York Times wrote in 2006. "But the fad has exploded this year, with scores of communities posting open invitations on the Internet or in local newspapers."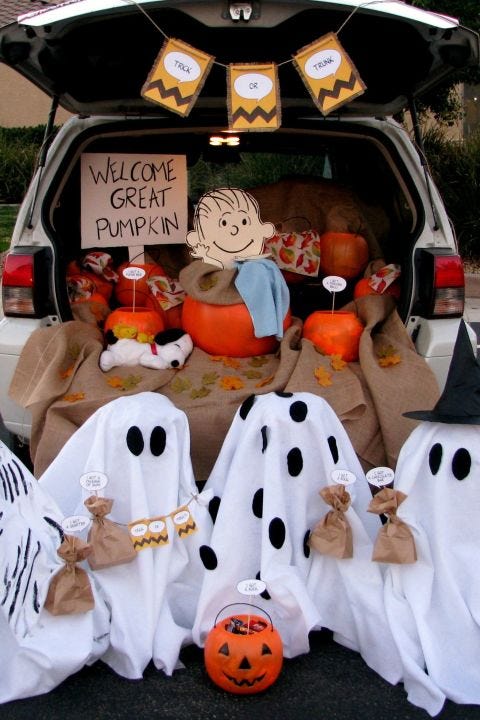 The next great psycho horror slasher has given a documentary crew exclusive access to his life as he plans his reign of terror over the sleepy town of Glen Echo.
2007
The newest movie in the iconic Halloween franchise is released, produced by Rob Zombie. It's a disappointment, according to critics, but fans of the original 1978 film still pack theaters to see it.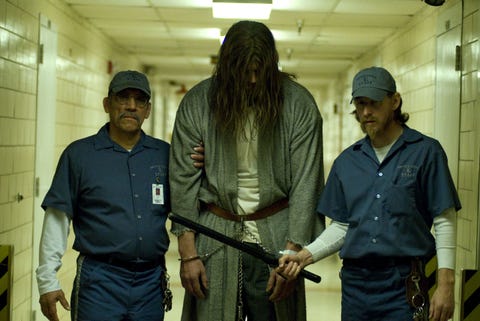 Five interwoven stories that occur on Halloween: An everyday high school principal has a secret life as a serial killer; a college virgin might have just met the guy for her; a group of teenagers pull a mean prank; a woman who loathes the night has to contend with her holiday-obsessed husband; and a mean old man meets his match with a demonic, supernatural trick-or-treater.
2008
With the 2008 Presidential election taking place just eight days after Halloween, politics were on everywhere's minds. Obama, McCain, and Palin masks and costumes were particularly popular this year.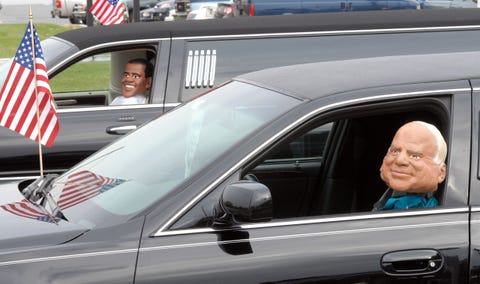 Strange things start happening after a girl is found drowned in a lake.
2009
Vampires make a comeback in pop culture thanks to hit TV shows and movies like True Blood and Twilight. The Twilight Saga: New Moon, which was released in November 2009, became the highest grossing "horror movie" of all time, according to the Guinness World Records.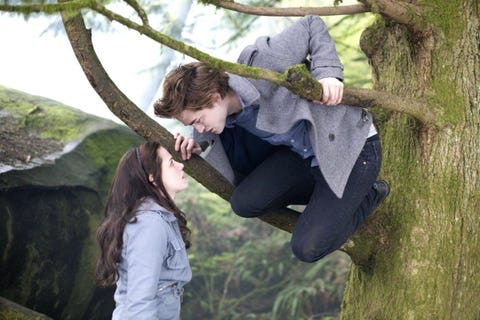 A group of friends suffer a yachting accident and take refuge on a cruise drifting on the open sea, but quickly realize they were better off on the upturned yacht.
2010
Pinterest launches and becomes a mecca for Halloween inspiration. With a seemingly infinite number of Halloween-related pins, over 100 million people flock to the social media platform for Halloween couple costumes, pet costumes, family costumes, party recipes, and more.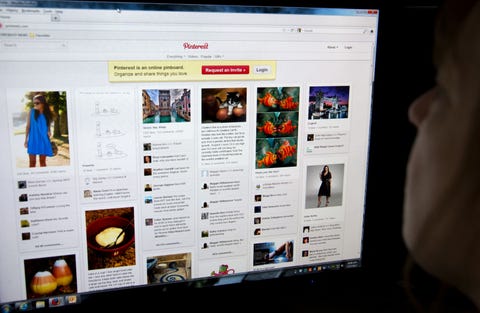 In a world of vampires, an expert vampire hunter and his young protégé travel toward sanctuary.
2011
American Horror Story launches on FX, satisfying America's growing fixation with horror entertainment.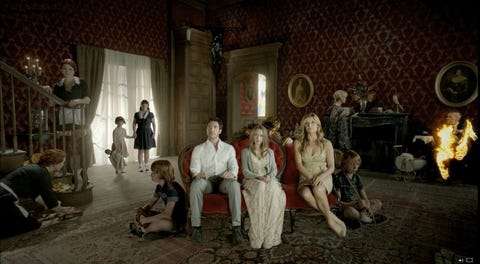 Plagued by a series of apocalyptic visions, a young husband and father questions whether to shelter his family from a coming storm, or from himself.
2012
It's official: Americans love Halloween costumes so much that they want their pets to be in on the fun too. Pet costumes reach a whopping $350 million in annual sales, which is a 60 percent increase from 2010 when pet owners spent $220 million, according to Vox.com.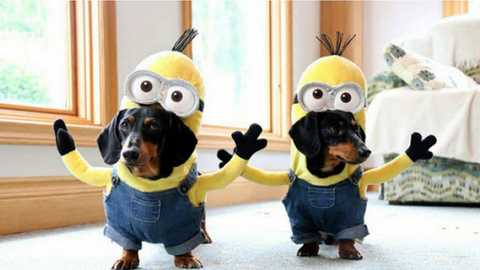 Sold at a brothel deep in the woods to work as a caretaker, a hapless deaf girl must summon the courage to fight for her life.
2013
Chocolate candy—in any variety—is America's favorite Halloween candy. Almost 75 percent of all the candy consumed this year is some form of chocolate. Reese's and M&M's are two of the most popular Halloween candies, according to USA Today.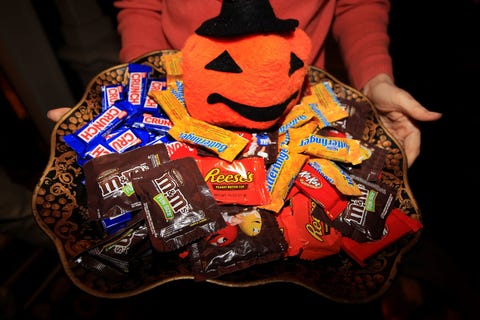 Paranormal investigators Ed and Lorraine Warren work to help a family terrorized by a dark presence in their farmhouse.
2014
In order to make Halloween safer for kids with food allergies, the Food Allergy Research and Education (FARE) group launched the Teal Pumpkin Project, which encourages families to notify trick-or-treaters that they have non-food treats at their home by displaying teal pumpkin on their porch.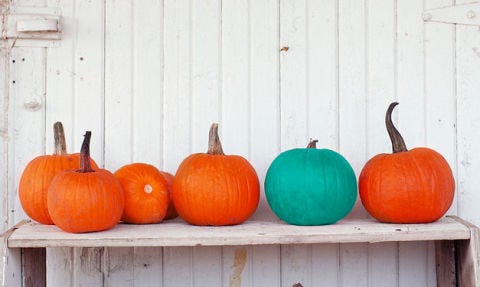 In the Iranian ghost-town Bad City, a place that reeks of death and loneliness, the townspeople are unaware they are being stalked by a lonesome vampire.
2015
Ellen DeGeneres cracked us up with a now-viral video that features her producer Andy Lassner and Modern Family star Eric Stonestreet touring a haunted house, a hysterical yearly tradition she started on her show back in 2012. The popular video now has over 8.6 million views.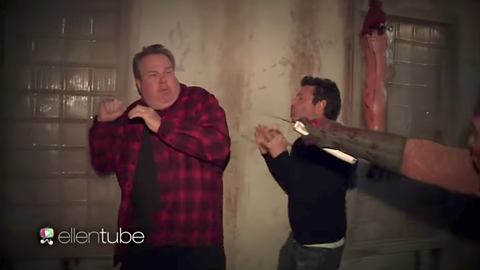 In the aftermath of a family tragedy, an aspiring author is torn between love for her childhood friend and the temptation of a mysterious outsider. Trying to escape the ghosts of her past, she is swept away to a house that breathes, bleeds – and remembers.
2016
Game of Thrones, Star Wars, and Harley Quinn-inspired costumes are all ranking as popular costume ideas this year.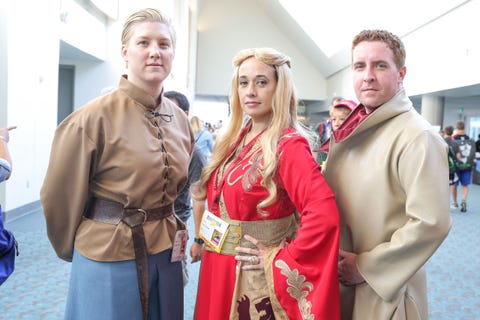 A father and son, both coroners, are pulled into a complex mystery while attempting to identify the body of a young woman, who was apparently harboring dark secrets.
2017
More than two decades after the Halloween classic Hocus Pocus premiered, people can finally channel the Sanderson sisters for Halloween, thanks to an exclusive collection of Hocus Pocus costumes and decor from Spirit Halloween. However, fans are less enthused to learn that Hocus Pocus is officially getting a reboot—but likely without the original cast.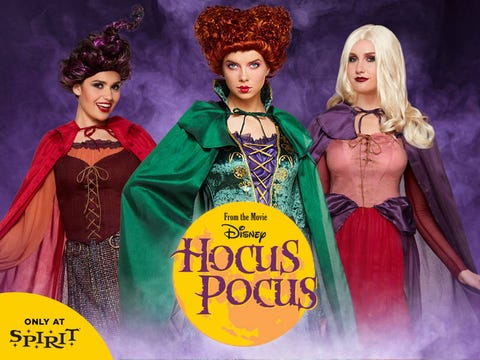 Steven, a charismatic surgeon, is forced to make an unthinkable sacrifice after his life starts to fall apart, when the behavior of a teenage boy he has taken under his wing turns sinister.
2018
Legendary scream queen Jamie Lee Curtis returns to the big screen as Laurie Strode to face off against Michael Myers once again. The new Halloween movie is a direct sequel to the original 1978 film, ignoring every other chapter in the franchise that has been released since.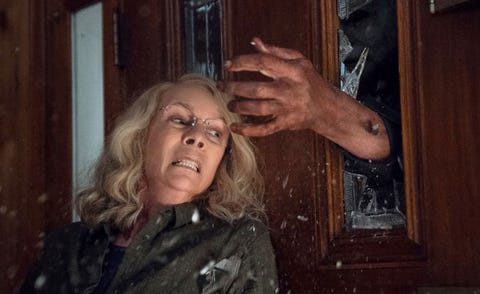 The story follows Jack, a highly intelligent serial killer, over the course of twelve years, and depicts the murders that really develop his inner madman.
2019
As noted by Etsy resident trend expert Dayna Isom Johnson, 2019 Halloween partygoers are hopping on the "pretty scary" bandwagon, leaning toward more aesthetically pleasing costumes and decorations.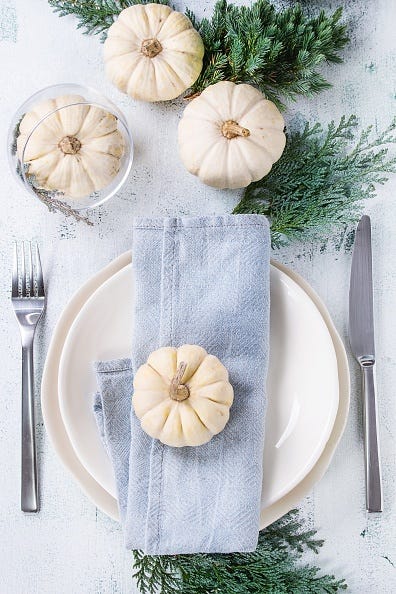 Imperfect yet intriguing, The Wind offers horror fans an admirably ambitious story further distinguished by its fresh perspective and effective scares.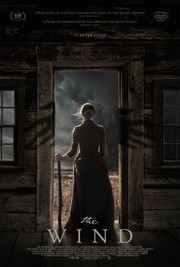 2020
The coronavirus pandemic is changing Halloween, but it's still possible to celebrate safely. This could've been the best Halloween of the decade. Why you ask? Not only is Halloween on a Saturday this year, but it falls on the second full moon of October — it's a blue moon. This would have probably made for some very freaky, funny and interesting outcomes for Halloween.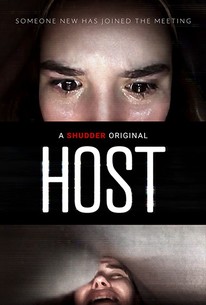 2021
Dwight and his sister Jessie reach a crossroads over what to do about their younger brother Thomas' mysterious illness. The increasingly dangerous task of keeping him alive weighs heavy on sensitive Dwight, and as a fiercely private and close-knit family unit, Thomas and Jessie depend on him and the rituals they've learned in order to keep their secret. Dwight yearns for another life, but Jessie will stop at nothing to keep her family together.